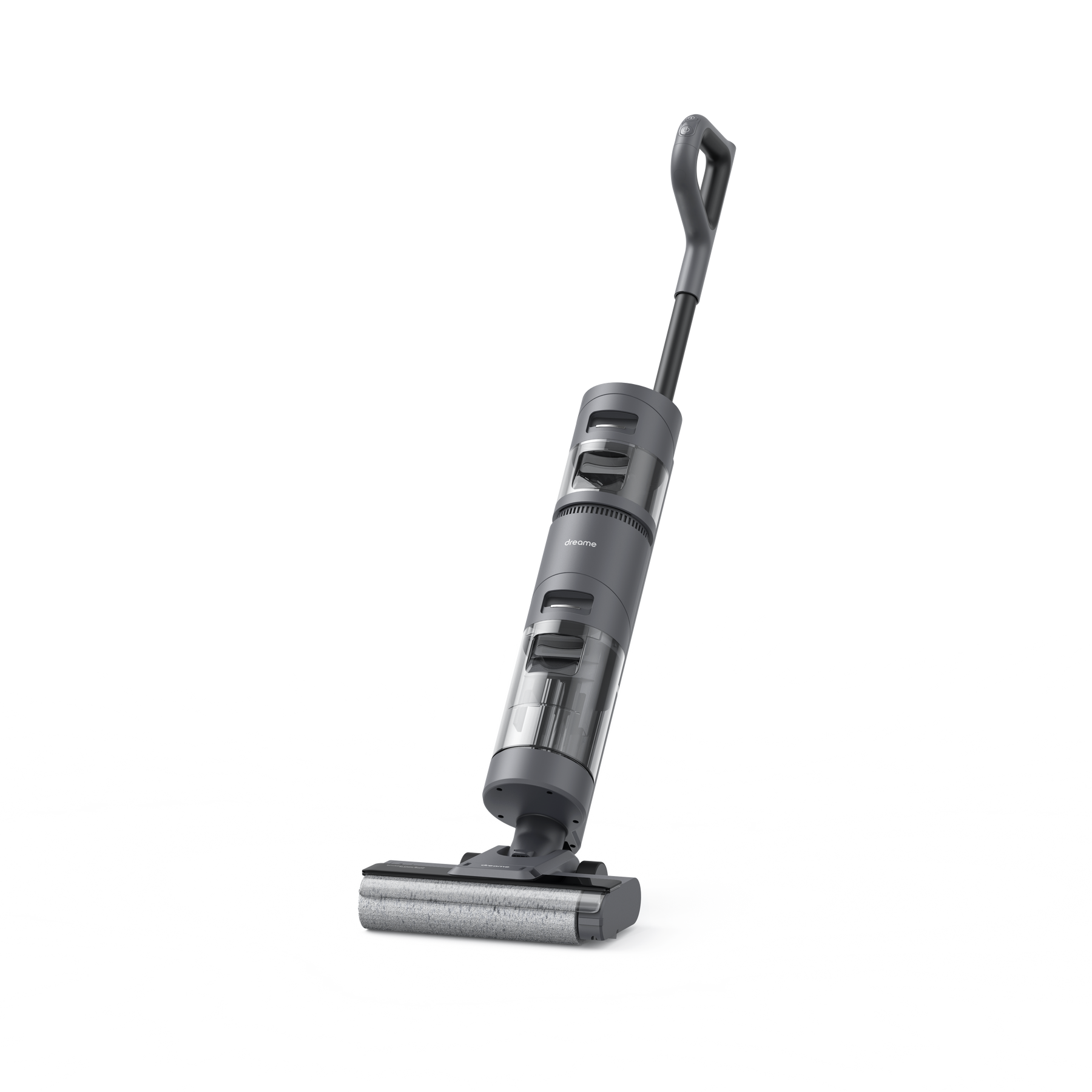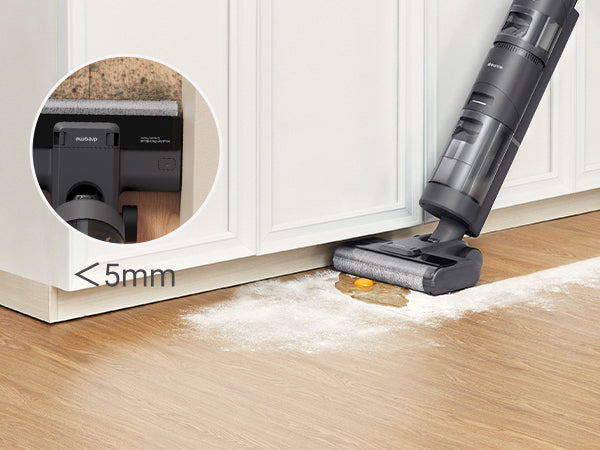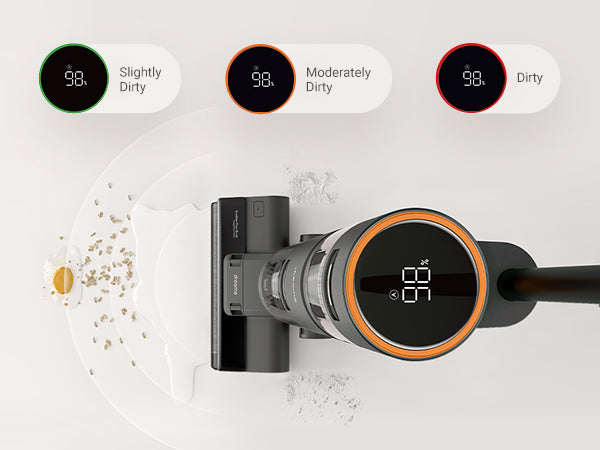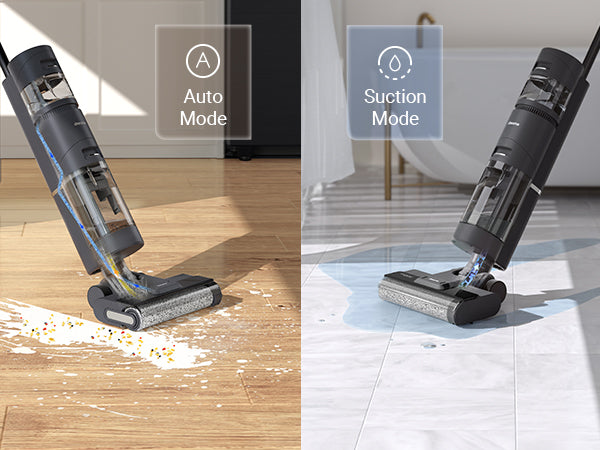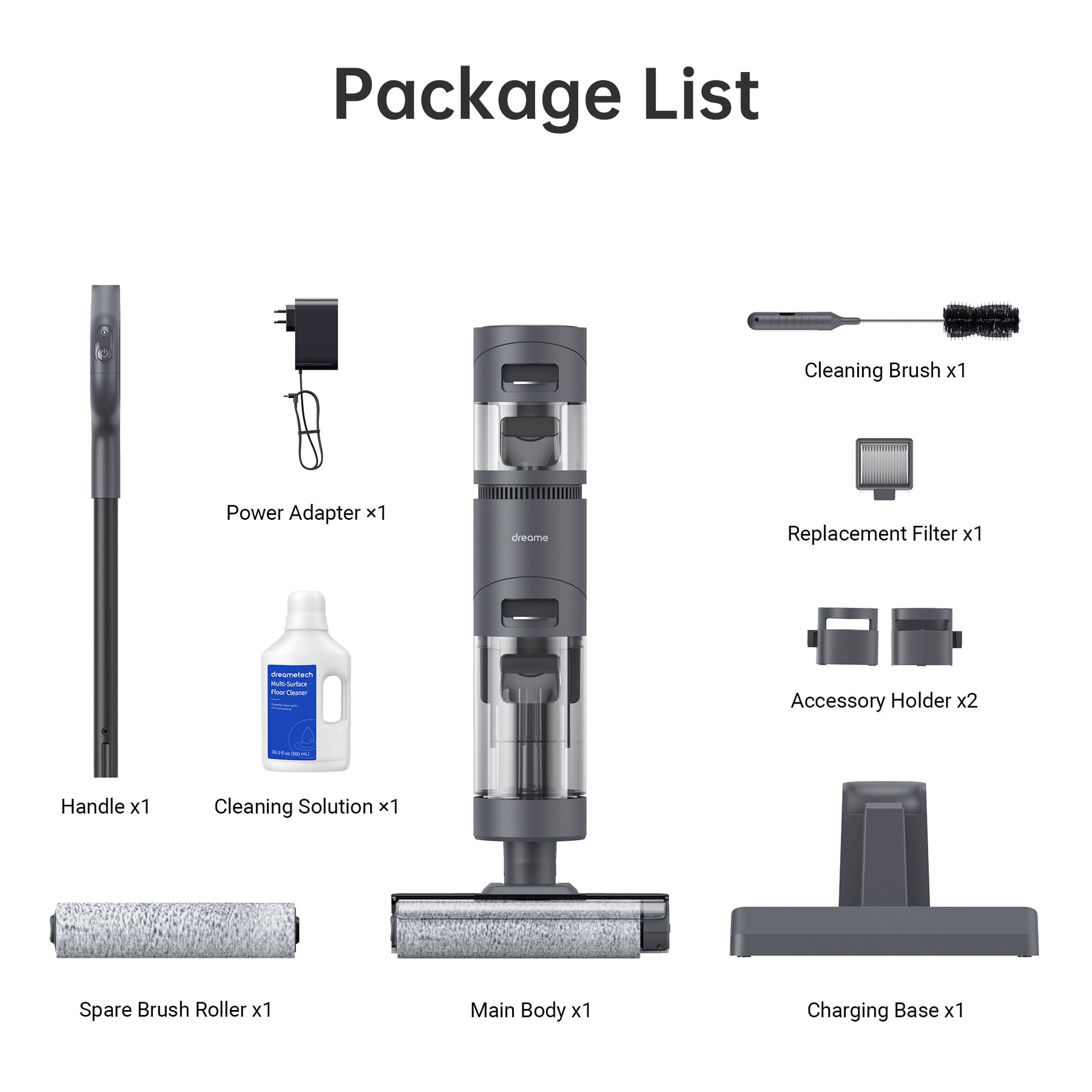 Dreame H12 Cordless Wet & Dry Vacuum Cleaner
Automatically Drying While Charging
The brush is thoroughly dried with hot air inside after self-cleaning within an hour and in the way to help prevent mildew, mold, and unpleasant odor.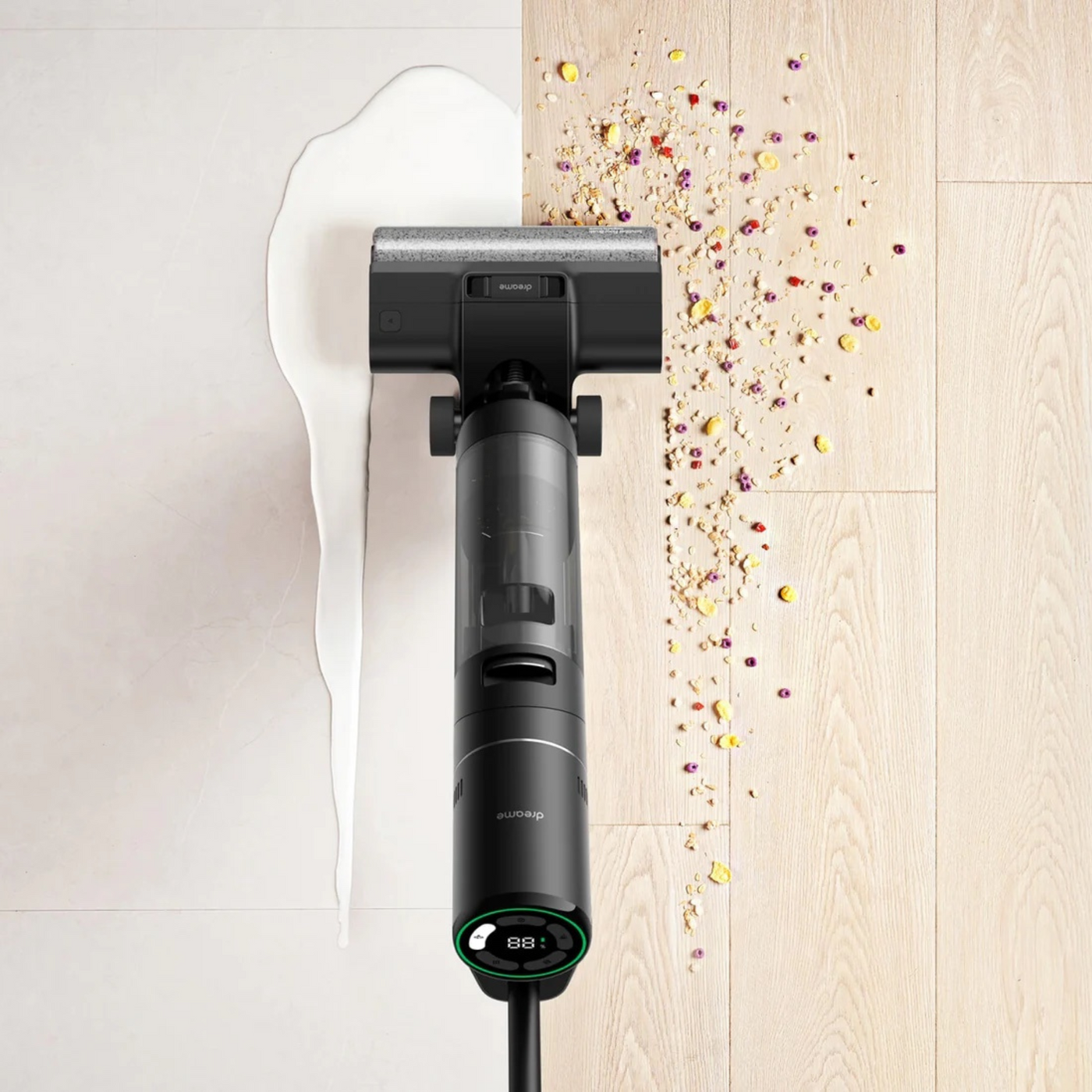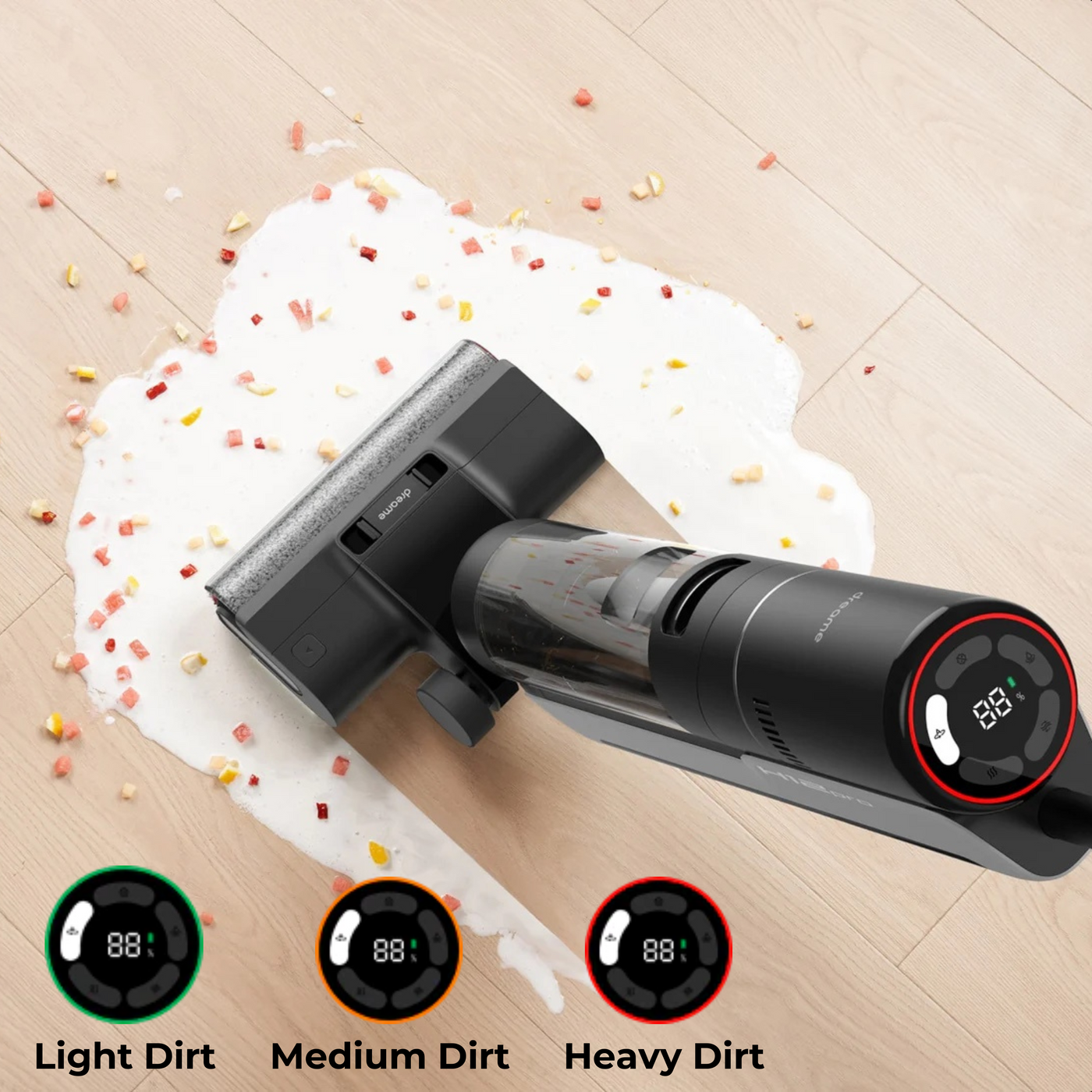 Wet mess? Dry mess? Bye, mess!
Eliminate dirt, dust, debris, hair, spills, and grime with powerful scrubbing and robust suction. A high-speedbrushless motor allows H12 Pro to wipe the floor 520 times per minute* to remove messes quickly and easily. 
Ideal Suction For Every Mess
Adjusts suction according to the mess detected, and ensures every mess is eliminated on the first pass with optimizing power efficiency.
Intelligent, Intuitive Cleaning
A large LED display and intelligent voice prompts to let you know in real-time how to optimize your cleaning.
Three Modes for Versatile Cleaning
Random to switch between different modes to clean the way you want. Customize your cleaning needs with an auto mode for basic cleaning, ultra mode for deep cleaning, and a suction mode that vacuums liquids without mopping.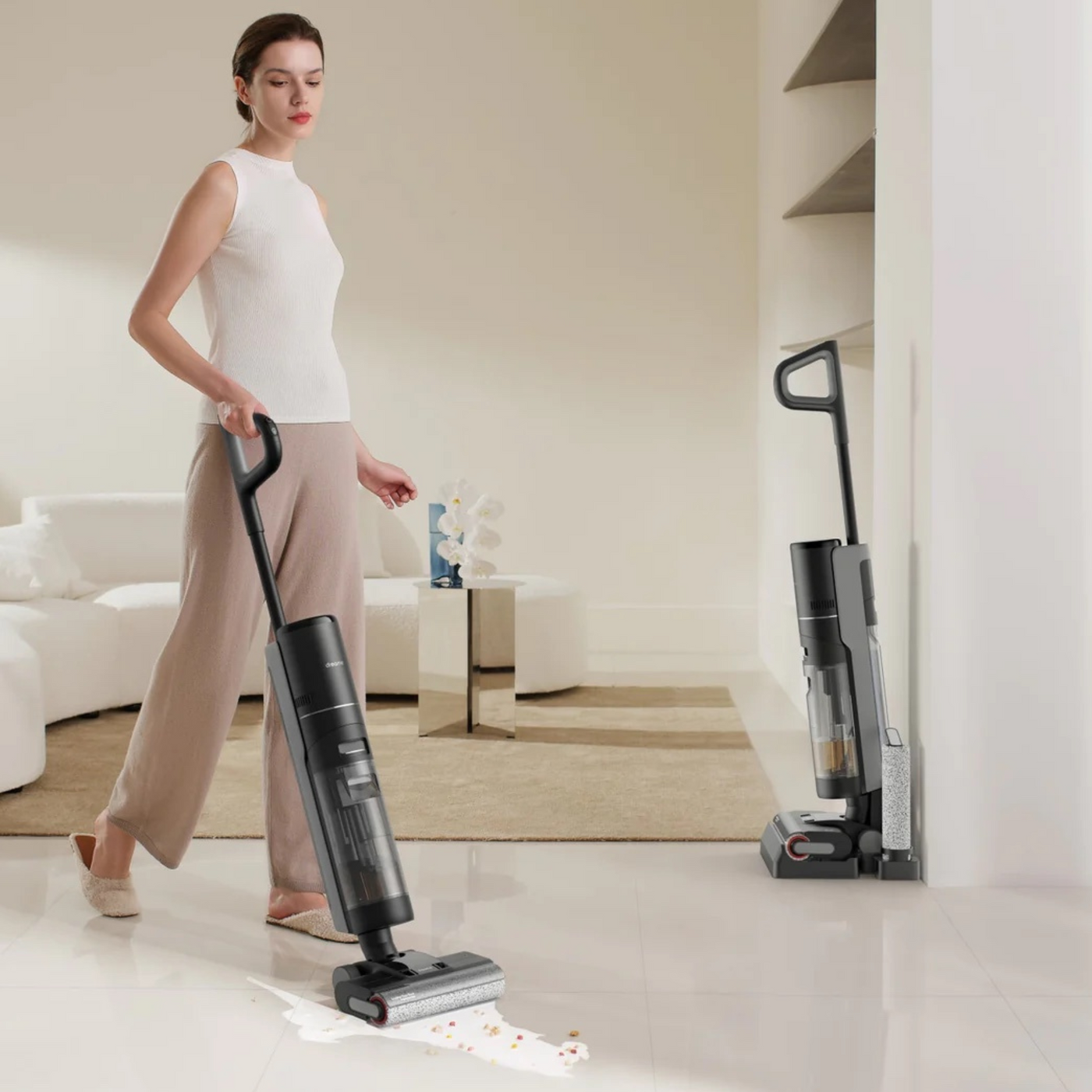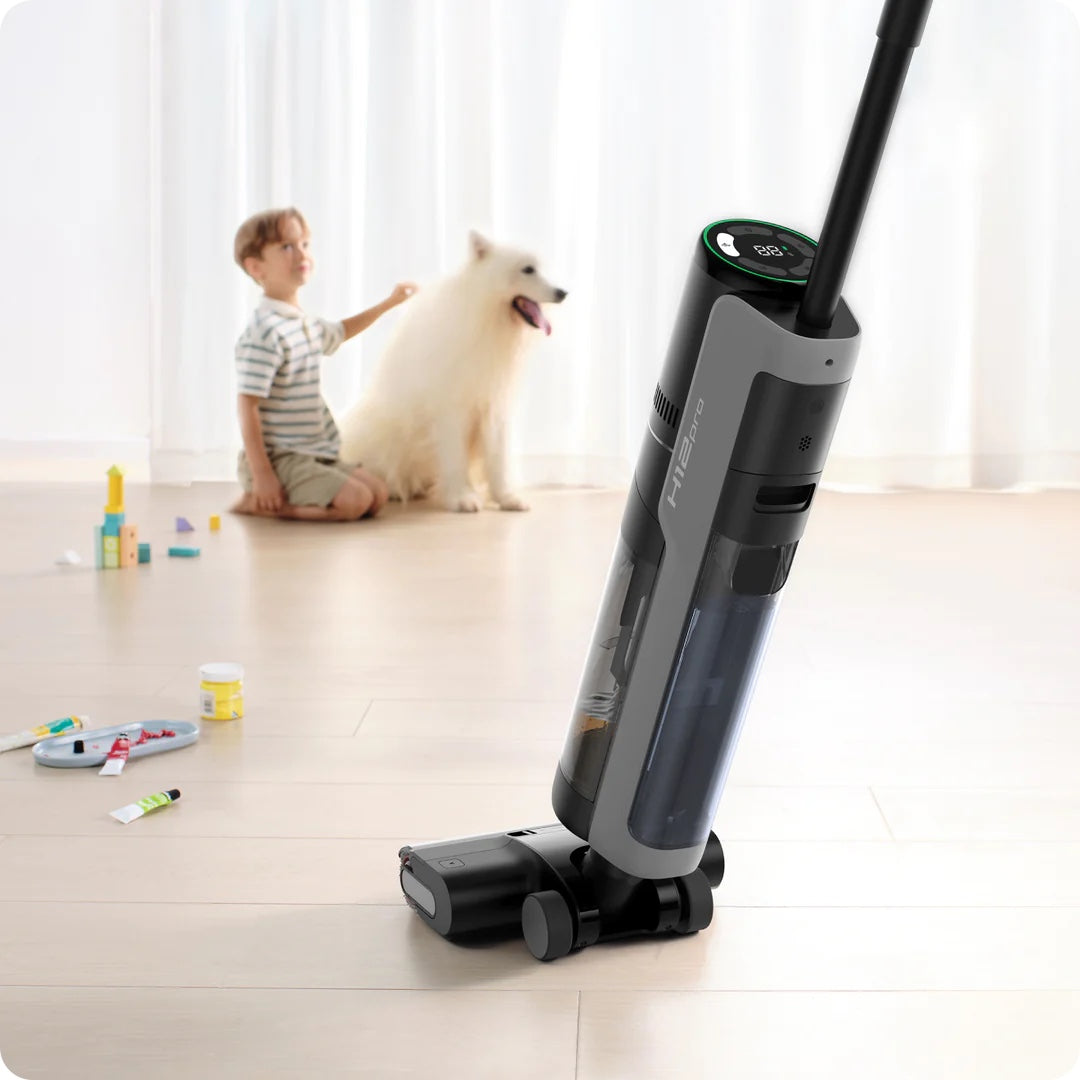 Thorough self-cleaning, during and after use.  
Self-cleaning capability detangles hair and scrubs off dirt to ensure cleaning with a clean brush. After cleaning is done, put the vacuum on the base and just press the button to thoroughly rinse the roller until it's clean.
Higher Capacity for Longer Cleaning
Clean longer to eliminate more messes within just a single cleaning session with a high capacity 6x 4,000mAh battery pack.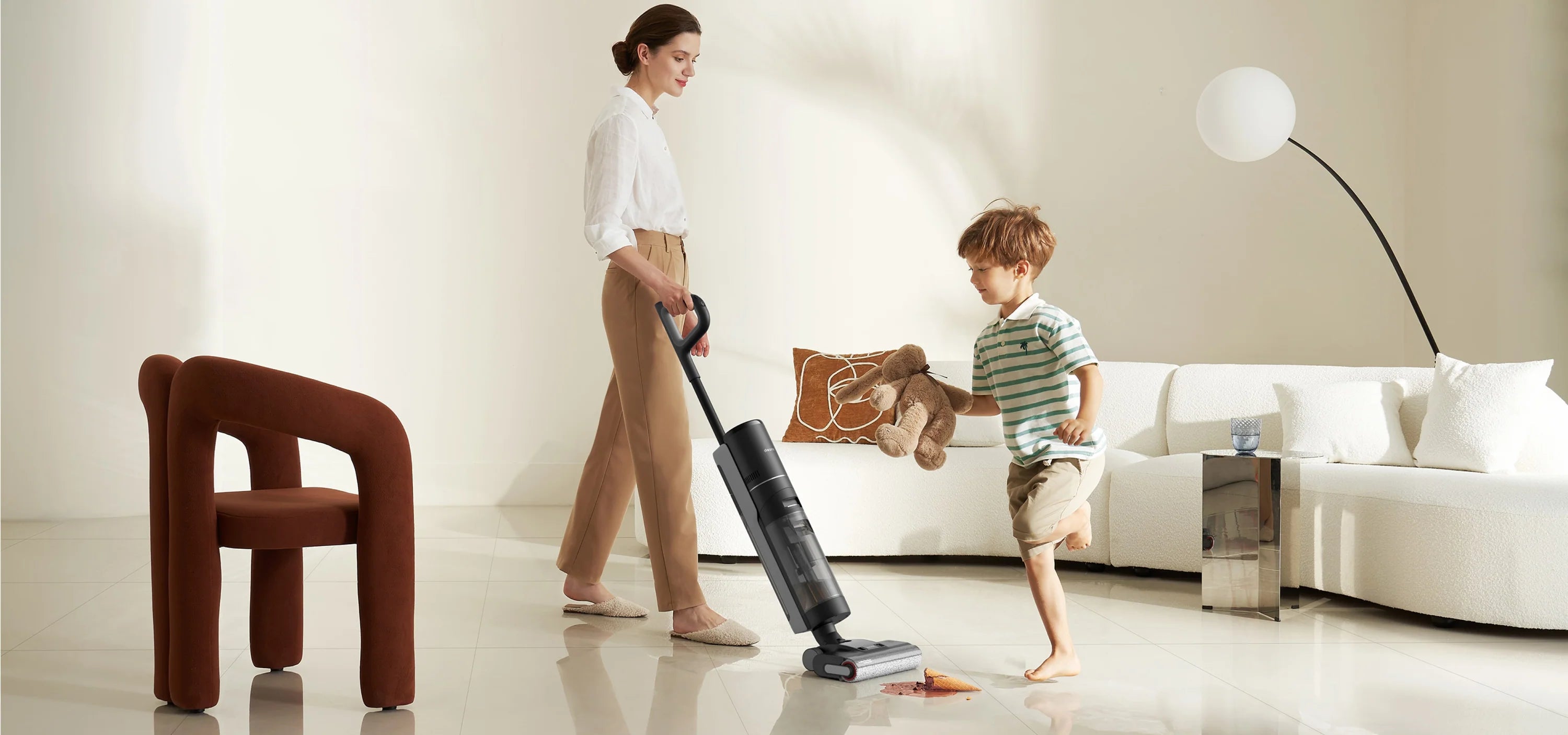 Less Noise with Strong Suction Power
H12 Pro features a brushless motor, a noise-optimized air channel design, smart power adjustment, and a soft brush roller. With these innovations, you can achieve thorough cleaning without causing disruption to your pets, kids, or other family members.
🚛【Ready stock + 2 Years Warranty】Local Seller, Ships from Singapore

🗝️【3-in-1 Wet and Dry】Vacuums, mops at the same time when brushing the floor 560 times per minute, afterwhich wash the roller with the self-cleaning function

🗝️【Auto Mode】Adjusts the suction level according to the upfront mess detected by sensors

🗝️【Self-Cleaning】With just a simple click, it can cleans itself on the base

🗝️【Large Coverage Area】Comes with a clean water tank of 900ml that covers ups to 200m2

🗝️【Large Battery Capacity】With 6 units 4,000 mAh that supports up to 35 minutes runtime

🗝️【Real-Time LED Screen Display】Get insight to real-time remaining battery, cleanliness and working status

🗝️【Powerful Traction】There is a traction at the front to help you effortless push the vacuum cleaner forward

🗝️【Easy to Store】It can stand on its own and be put away easily

 

 

Product Name: Dreame H12 Wet and Dry Vacuum

🧩Motor: Brushless

🧩Suction: 16,000 Pa

🧩Coverage Area: 200m2

🧩Battery Capacity: 6*4,000 mAh

🧩Runtime: 35 Minutes

🧩Mess Detection: Yes

🧩Auto-Mode: Yes

🧩Clean Water Tank: 900 ml

🧩Used Water Tank: 500 ml

🧩Power: 200 W



📦WHAT'S IN THE BOX

🎈1 x Main Body 

🎈1 x Handle 

🎈1 x Replacement Filter 

🎈1 x Cleaning Brush 

🎈1 x Charging Base 

🎈2 x Accessory Holder 

🎈1 x Spare Brush Roller 

🎈1 x Cleaning Solution 

 


*Please note that the machine must use Dreame Cleaning Solution to ensure long-term use. The use of a Non-Dreame solution will cause corrosion and damage to the machine.

 


🔰【OFFICIAL DREAME WARRANTY】

2 YEARS Dreame Official Warranty is automatically activated when product is shipped to buyer.