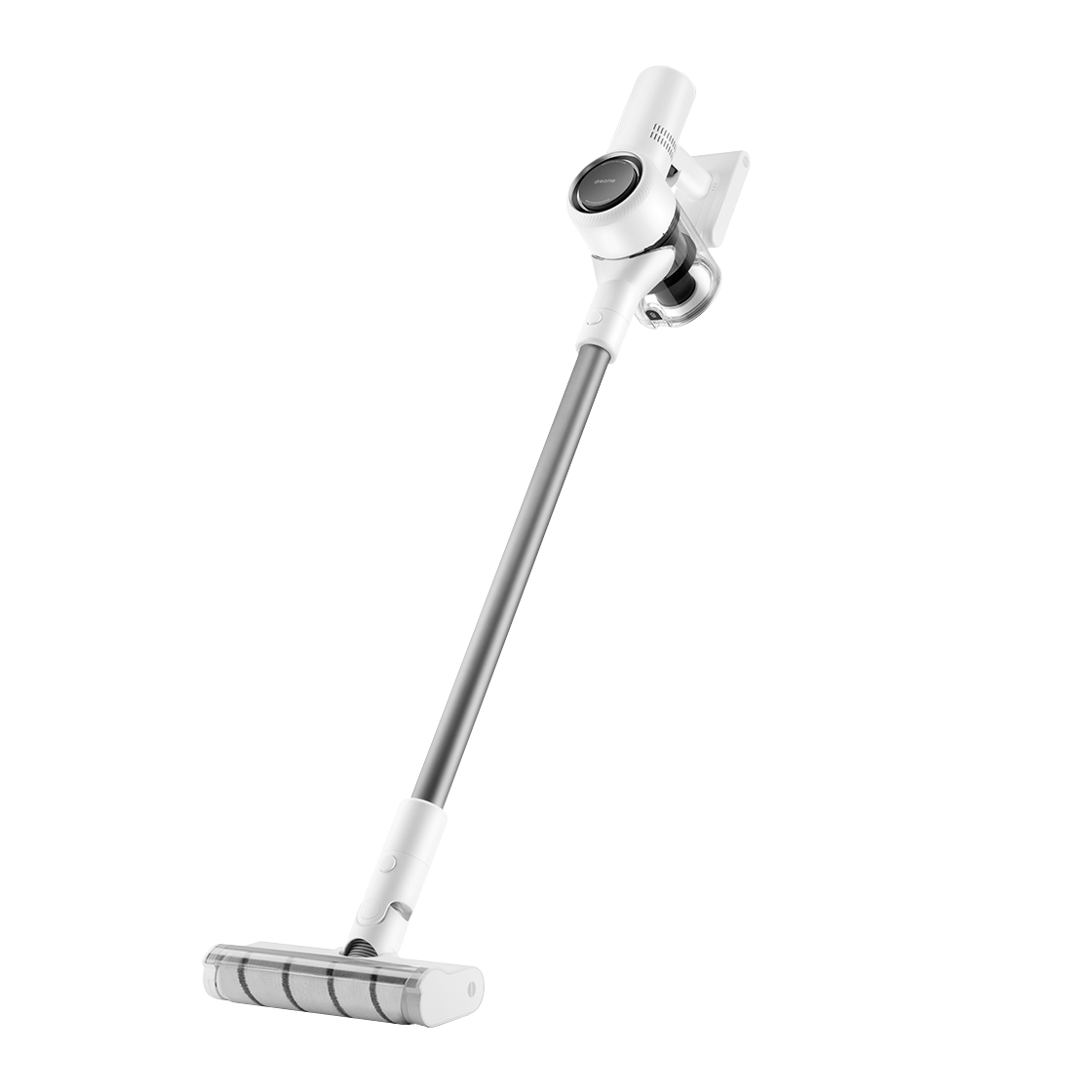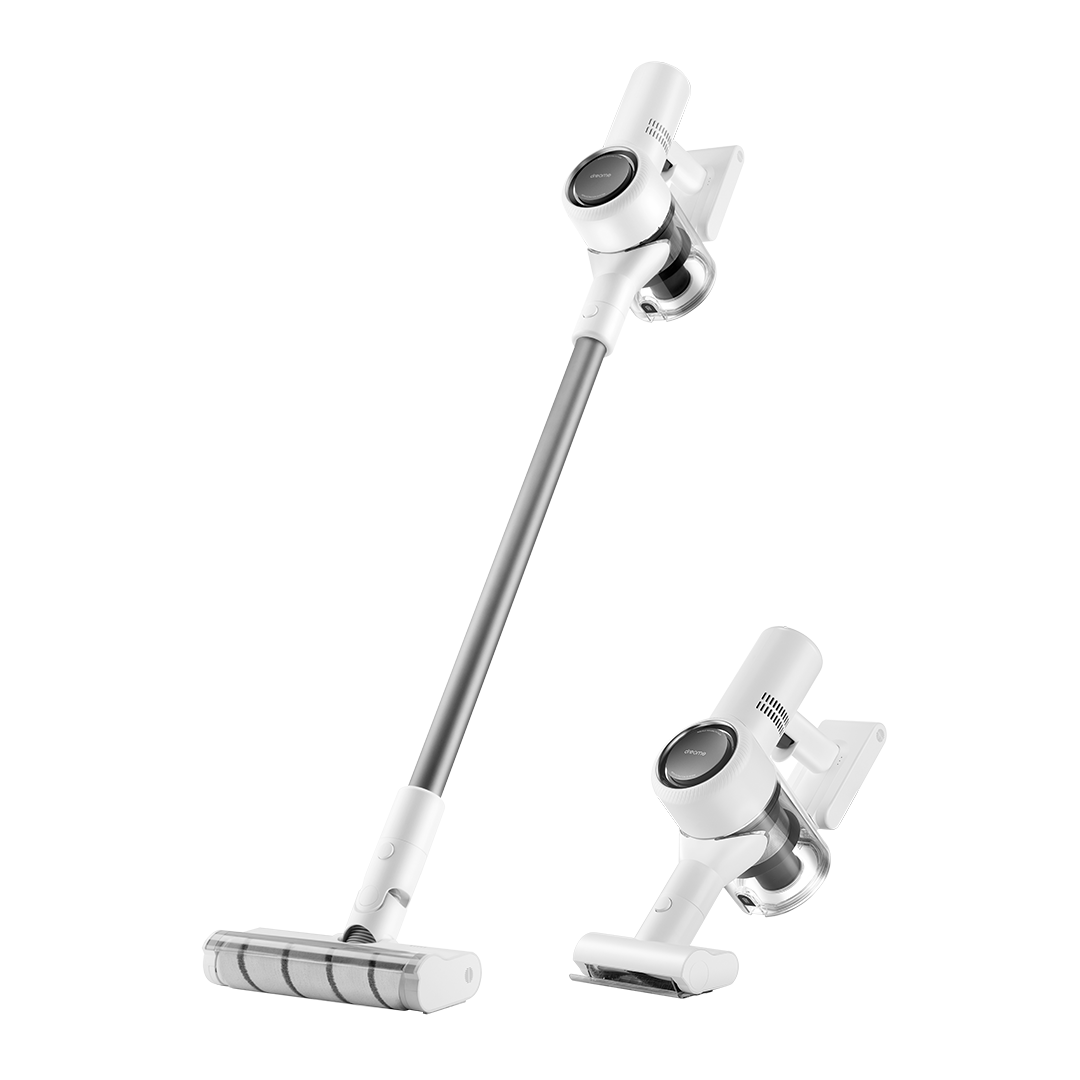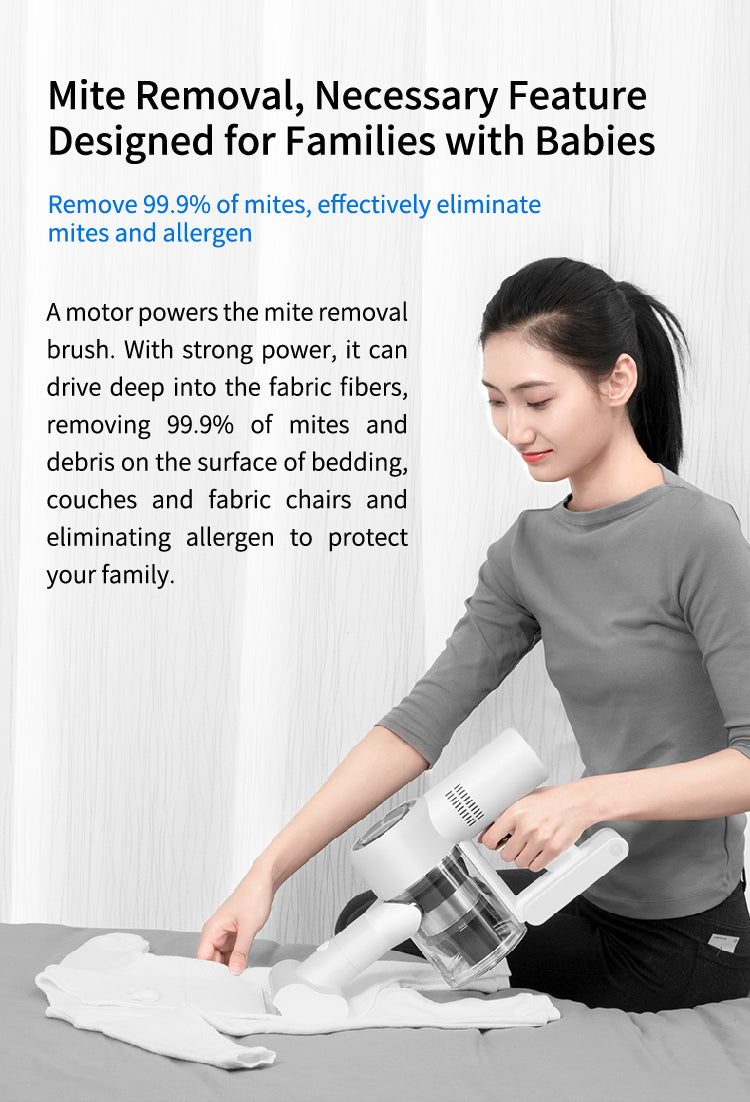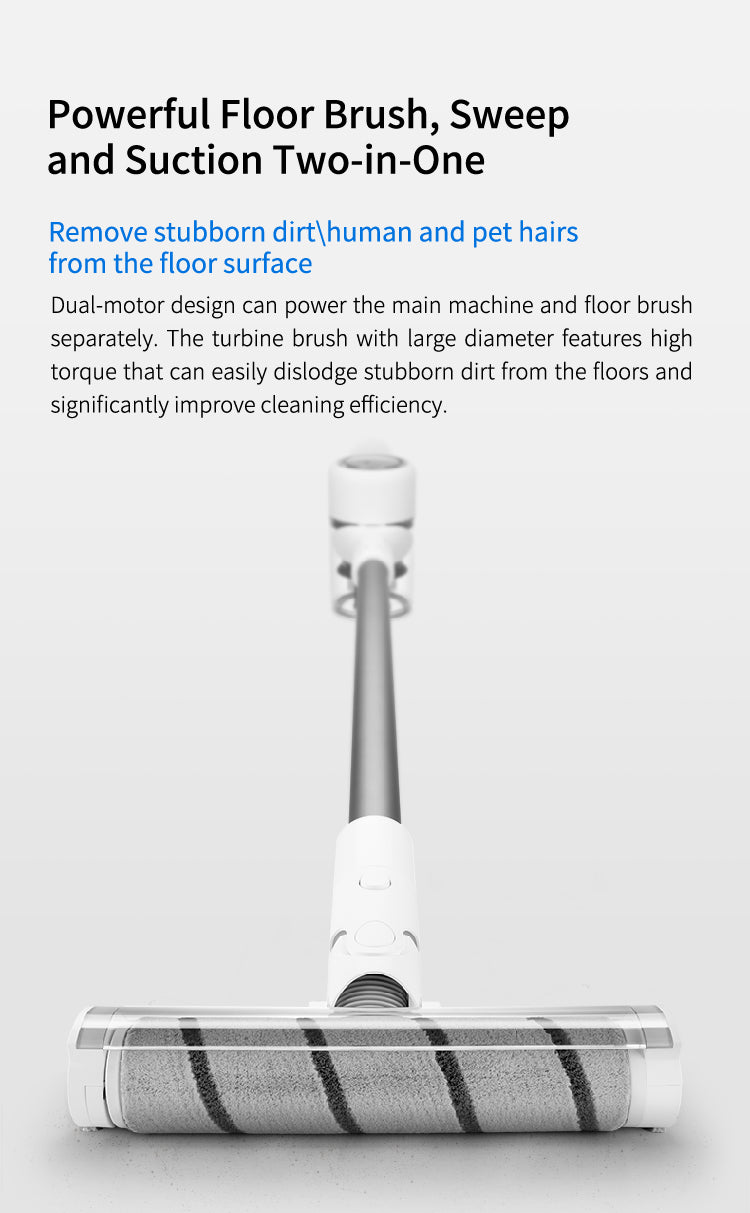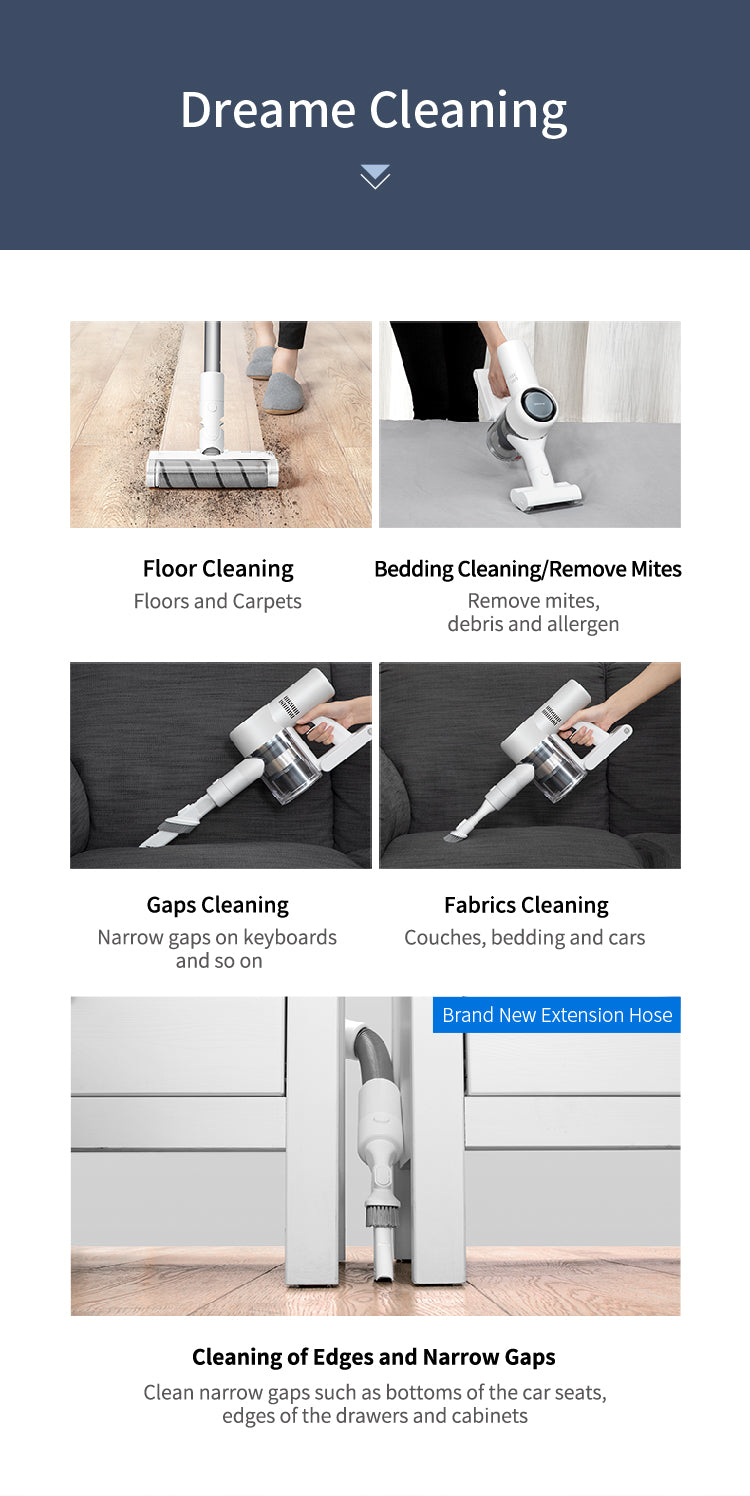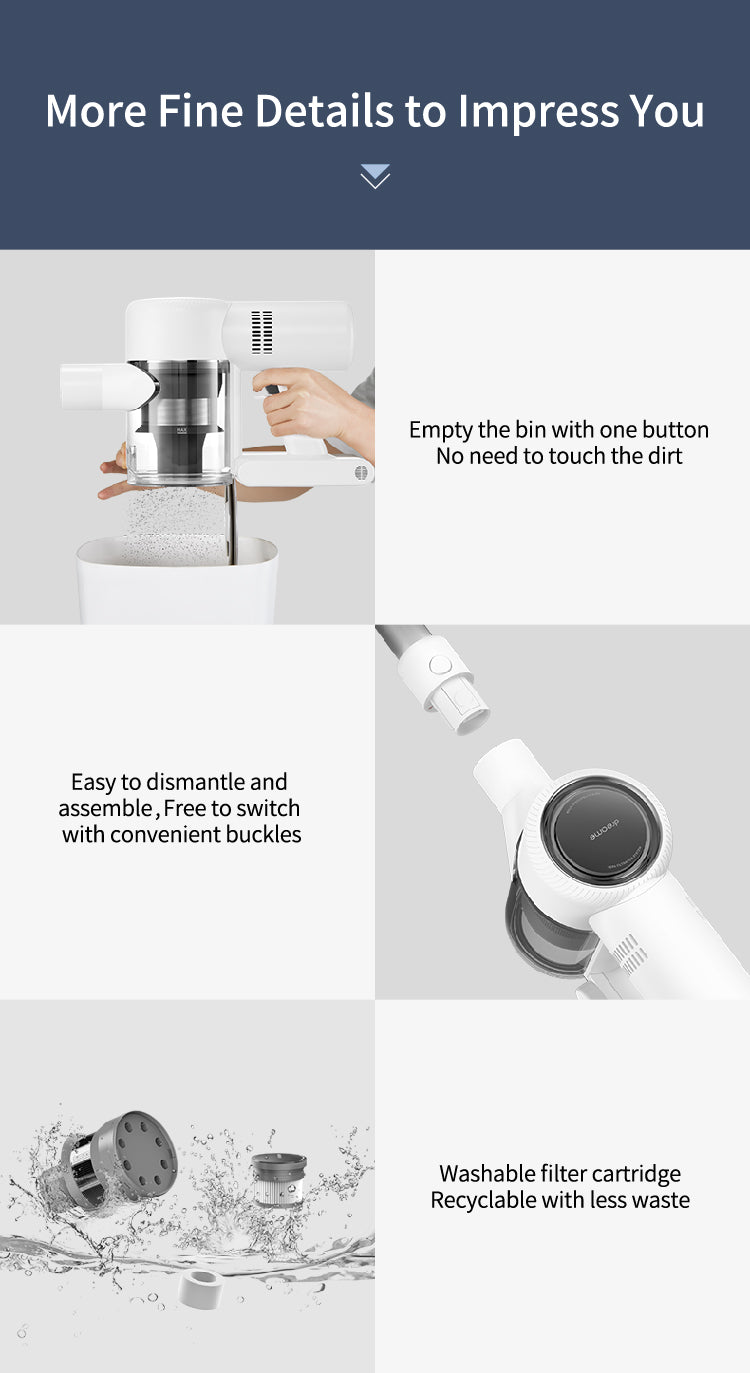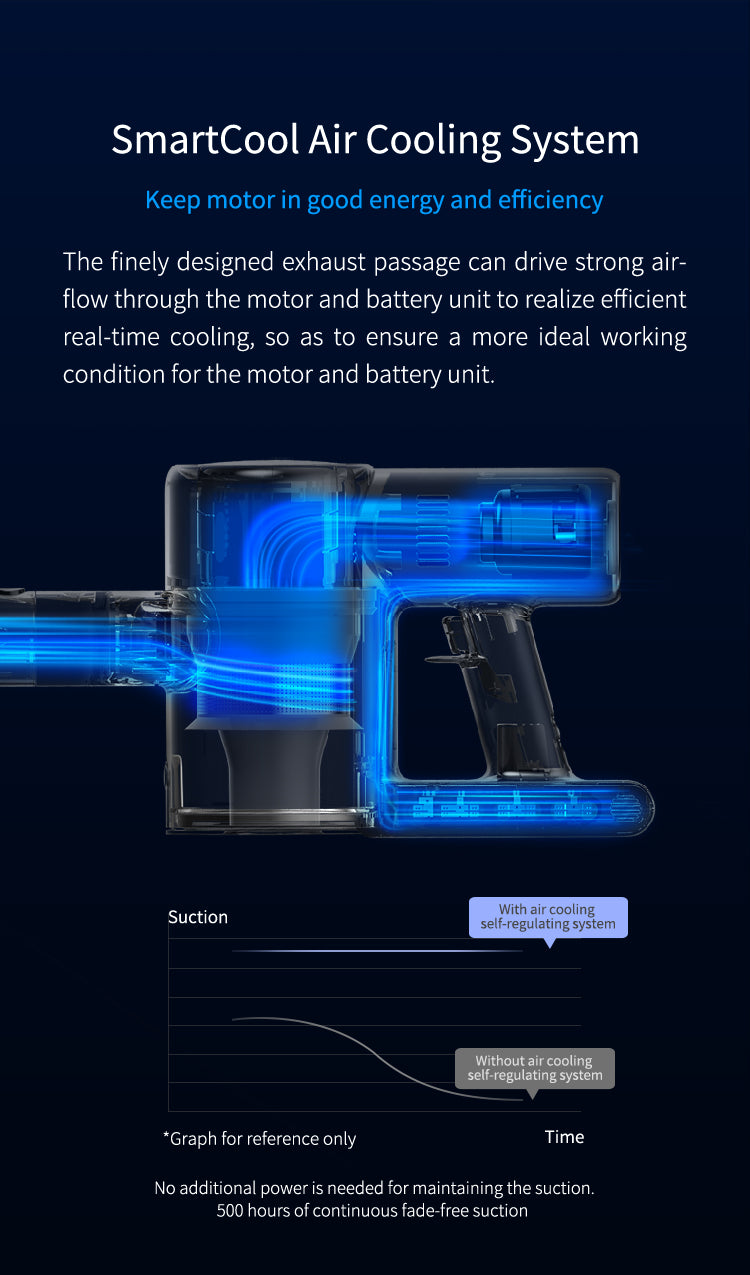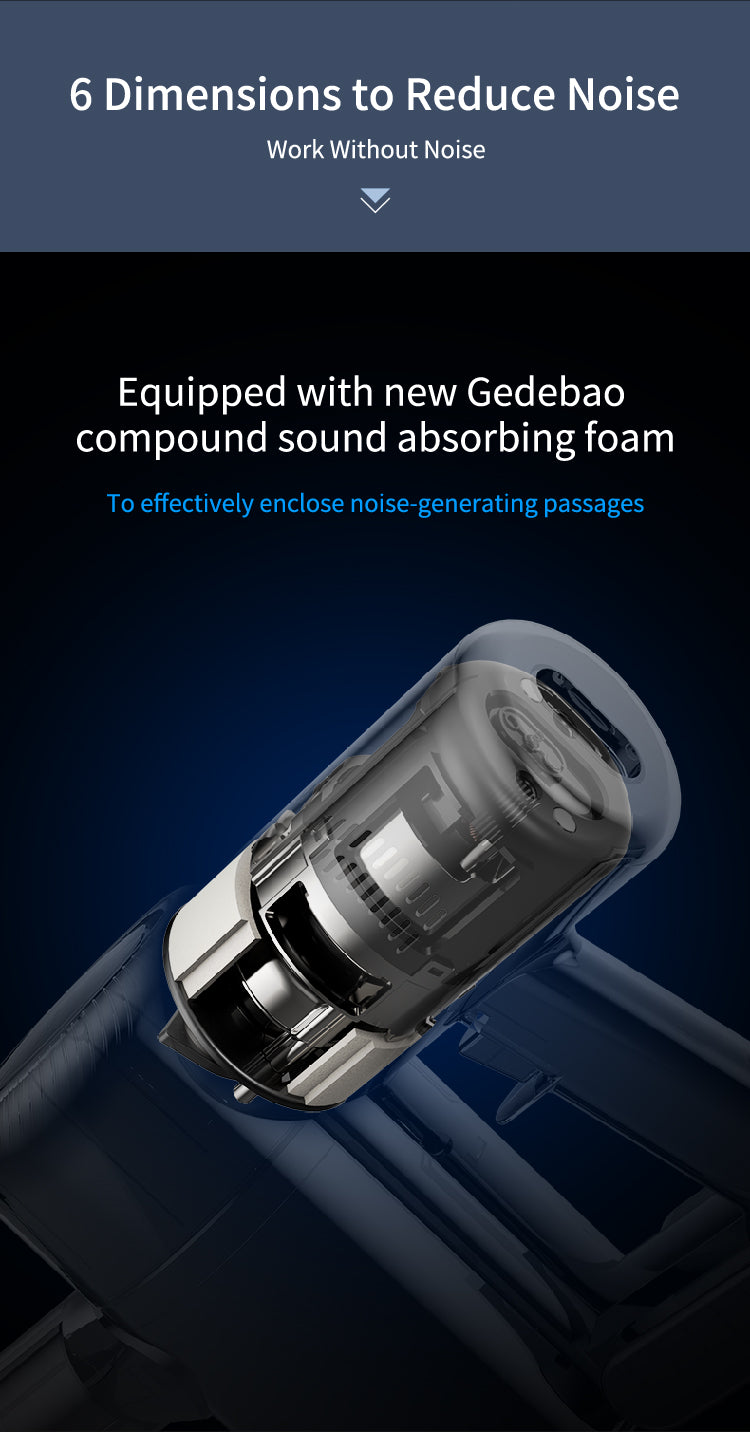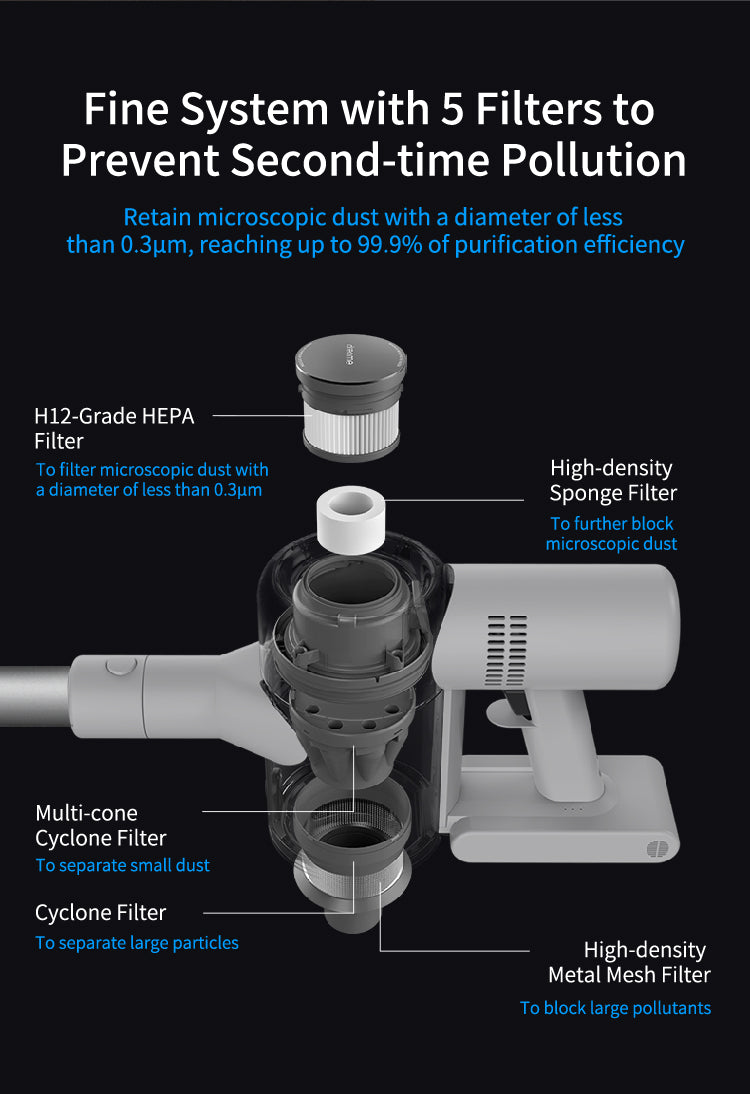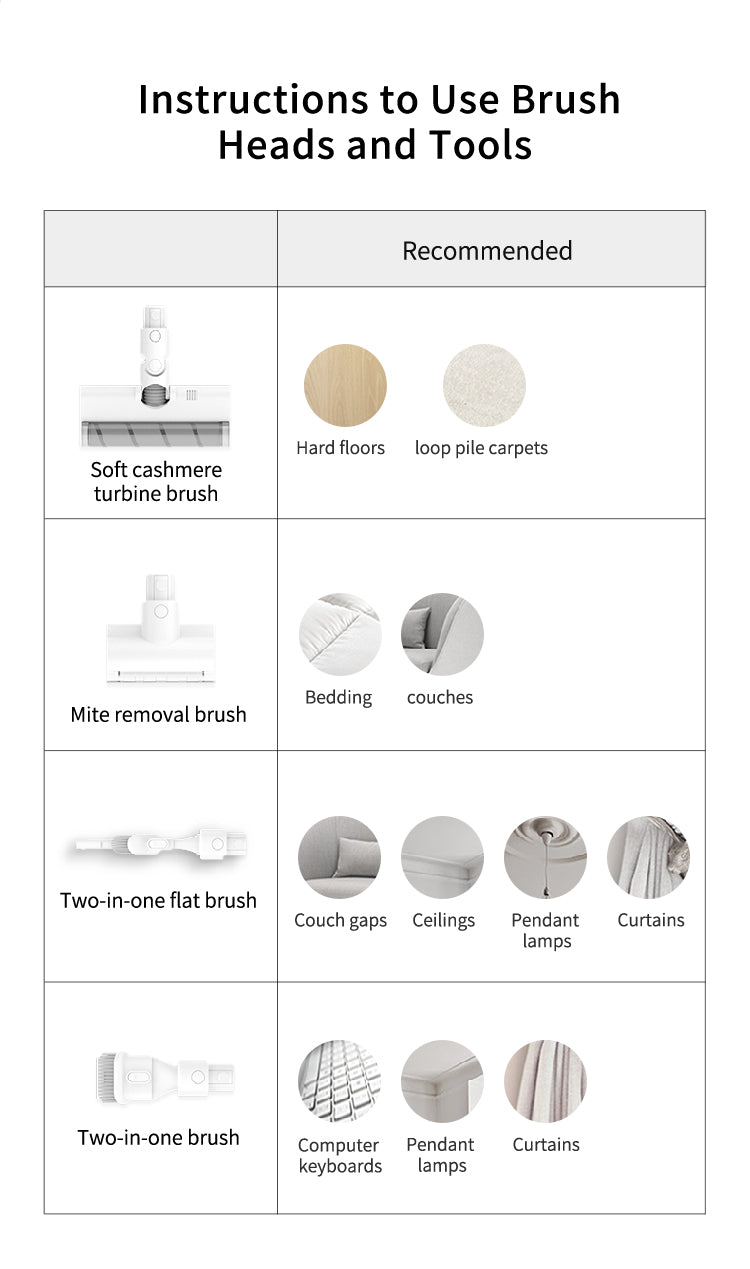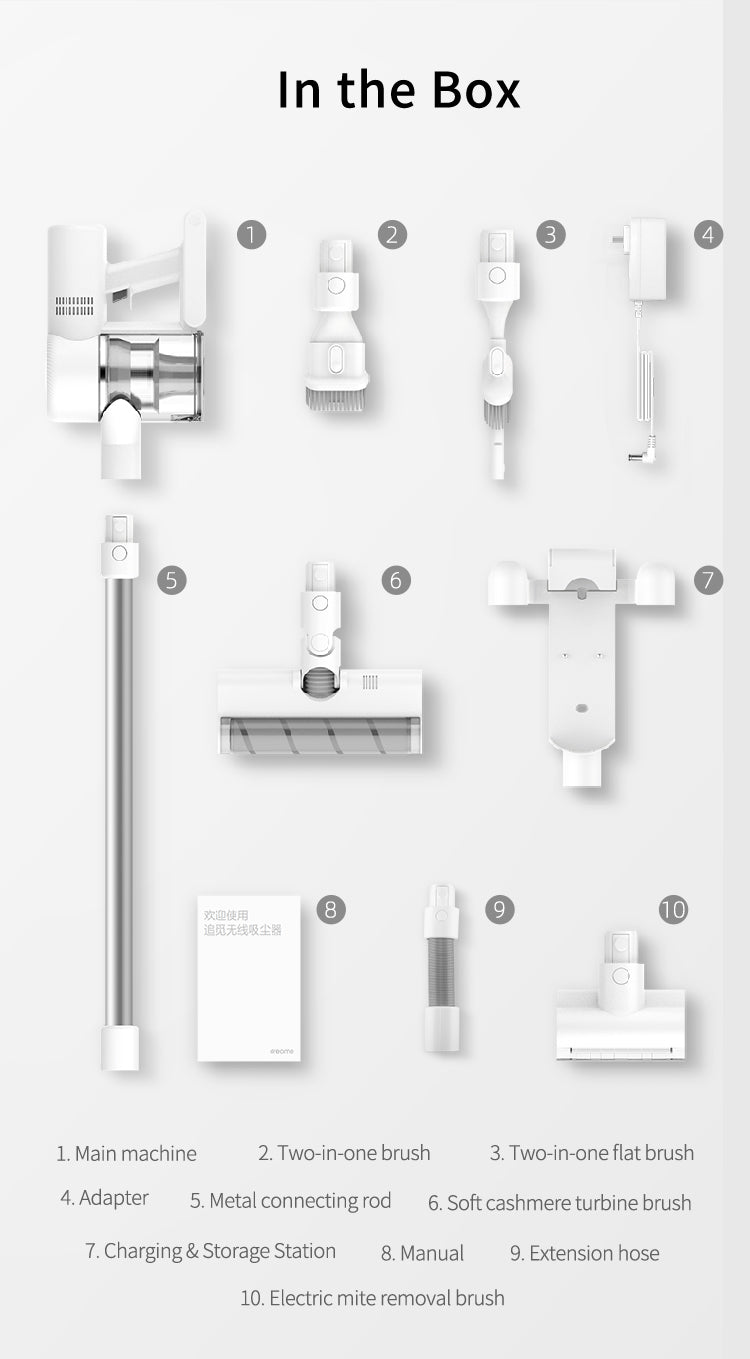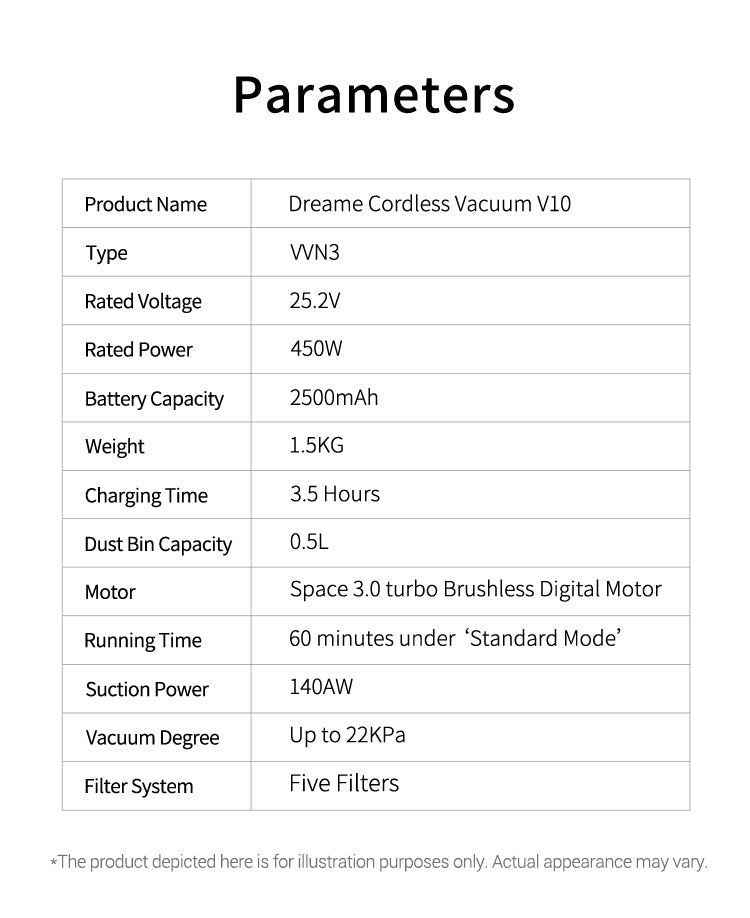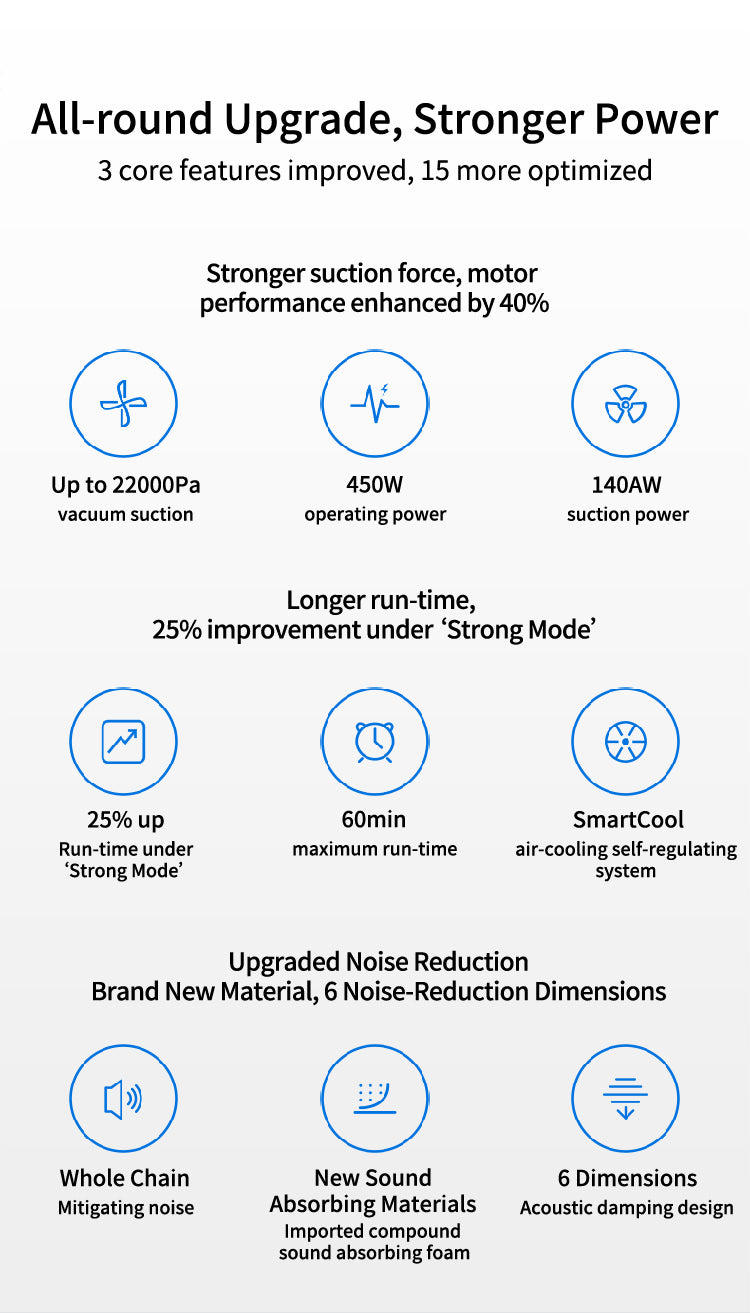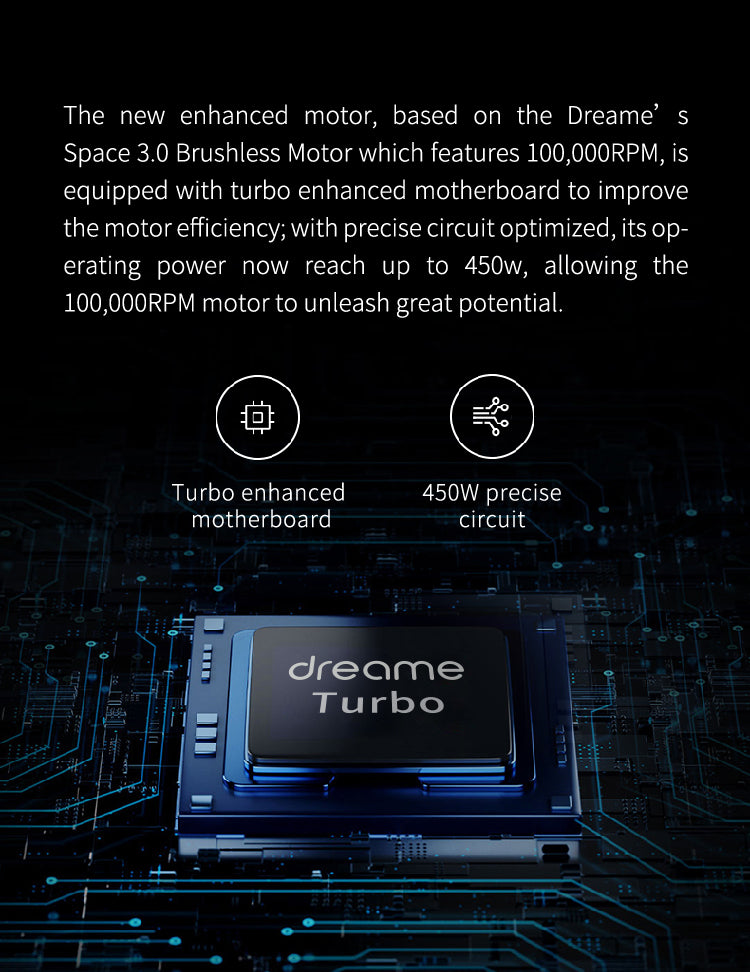 Dreame V10 Cordless Vacuum Cleaner
The Dreame V10 faces an all-round upgrade with the patented Dreame SPACE 3.0 motor.
With intelligent power management, the Dreame V10 effectively maintains a long-lasting battery endurance, boosts stronger vacuum suction and better noise reduction.
OVERVIEW
• 4 interchangeable attachment + extension rod
• Large diameter plush roller brush
• 3 suction modes
• 22,000 Pa powerful suction
• 60 min maximum runtime
• 500ml large capacity dust cap volume
• Wireless operation, rechargeable battery
• Turbo booster high-speed motor
• Noise reduction
• Cyclone filtration system
FEATURES
• Large-Diameter Fluff Roller Brush
With high-torque operation, the plush roller brush provides a tight ground contact which significantly improves cleaning efficiency.
• 140AW Powerful Suction
The Dreame V10 delivers 22,000 Pa of vacuum suction ascension
• 100,000 rpm High Speed Motor
The Dreame V10 is equipped with a new, upgraded Dreame SPACE 3.0 motor with turbo booster to further optimize motor efficiency.
• Smart Power Management System
Through intelligent power management based on battery and current status, motor power is dynamically adjusted to effectively maintain a longer battery endurance and preserve battery life.
• 60 min Battery Runtime
The Dreame V10 uses a 2,500mAh batteries which charges fully under 3.5 hours, providing a maximum runtime of 60 minutes.
• 2-in-1 Storage & Charging Dock
The wall-mounted dock serves a dual purpose. Store and charge at the same time so you are never without a fully charged battery.
• 3 Suction Power Modes
Switch between each mode to meet your cleaning needs.
Eco Mode: For light dusting, daily floor cleaning;
Med Mode: For cushions and car seats;
Turbo Mode: For carpets, rugs and curtains.
• SmartCool Self-Regulating Air Cooling System
Ensures motor energy efficiency and battery status. Maintains power use and consistent suction on continuous use.
• 5 Layer Cyclone Self-Cleaning Filtration System
The Dreame V10 is equipped with cyclone filtration system to prevent dust from being pumped back into the surroundings. The 5 layers of filter effectively intercepts particles down to 0.3 microns in size, achieving purification efficiency as high as 99%.
• 4 Interchangeable Attachments + Extension
The Dreame V10 includes a crevice nozzle for narrow spaces, a dust mite attachment, a 2-in-1 brush for fabrics, as well as an extension hose for high areas.
• 6-Dimensional Acoustic Noise Reduction
The Dreame V10 is designed to reduce noise from exhaust to brush head. Coupled with a compound sound absorbing foam, it operates quietly with minimal disturbance.
• 500ml Dust Cup
The large capacity dust cup holds more debris, reducing the need to frequently empty its contents.
• Easy Dust Cup Emptying
The dust cup opens at the base, allowing the contents to be emptied out easily without any direct contact with the debris/dust matter.
• Lightweight, Ergonomic Design
The motor and battery are placed at the handle to maintain gravity balance even if lifted. Weighing just 1.5kg, the vacuum can be easily lifted with one hand.
SPECIFICATIONS
Product Name: Dreame Cordless Vacuum V10
Color: White
Charging Time: 3-4 hours
Battery Capacity: 2500mAh
Rated Power: 450W
Rated Voltage: 25.2V
Suction Power: 140AW
Vacuum: 22kPa
Material: ABS
Dustbin Capacity: 0.5L
Product Weight: 1.5000 kg
Product Size: 60.00 x 22.00 x 23.00 cm
PACKAGE CONTENTS
1 x Vacuum Cleaner
1 x Extension Rod
1 x Soft Roller Brush
1 x Mini-Motorized Brush
1 x Extension Hose
1 x 2-in-1 Brush
1 x 2-in-1 Crevice Tool
1 x 2-in-1 Charging & Storage Mount
1 x Adapter
1 x User Manual
[ OFFICAL DREAME WARRANTY ]
• 2 Years Warranty
• Warranty is auto activated once product is shipped out