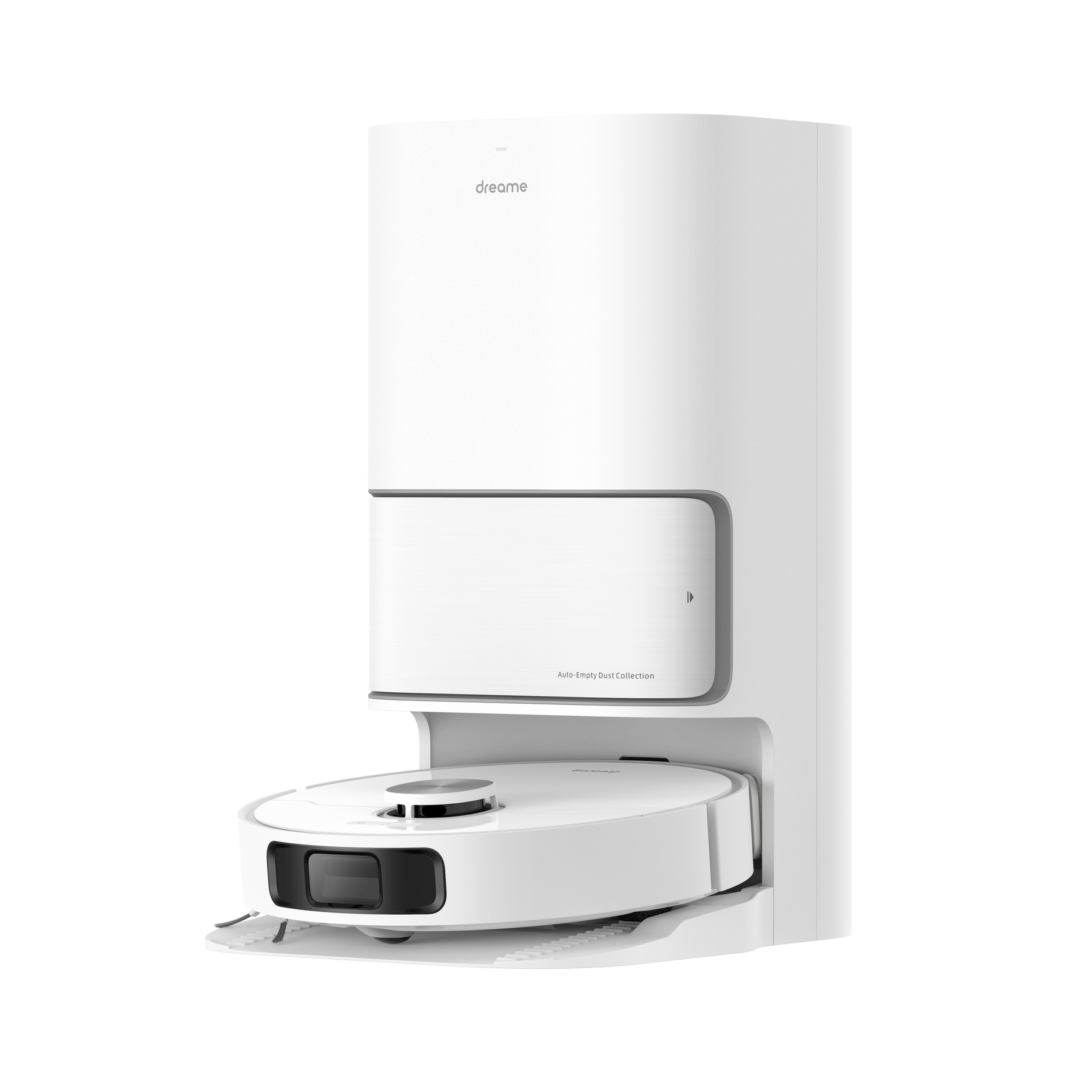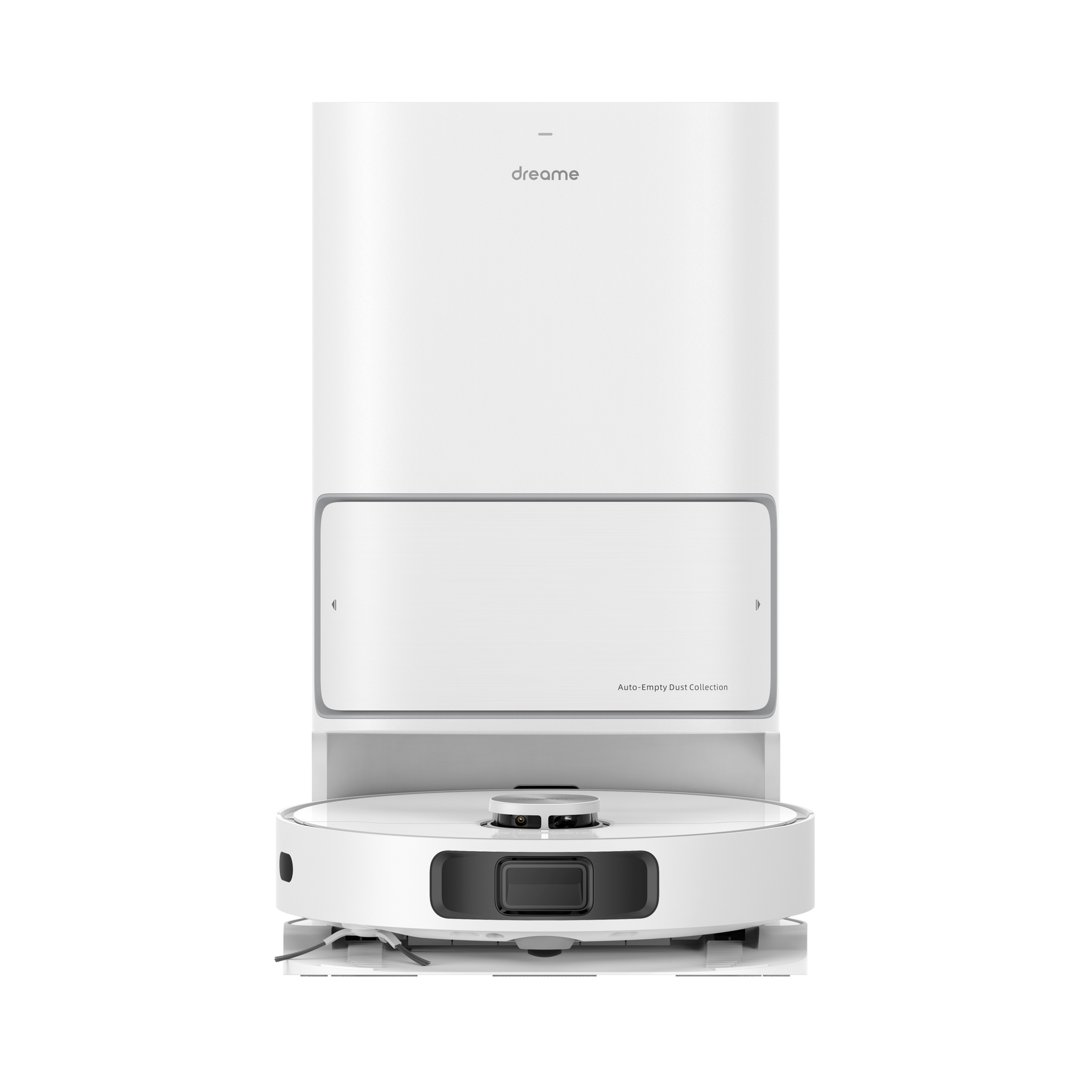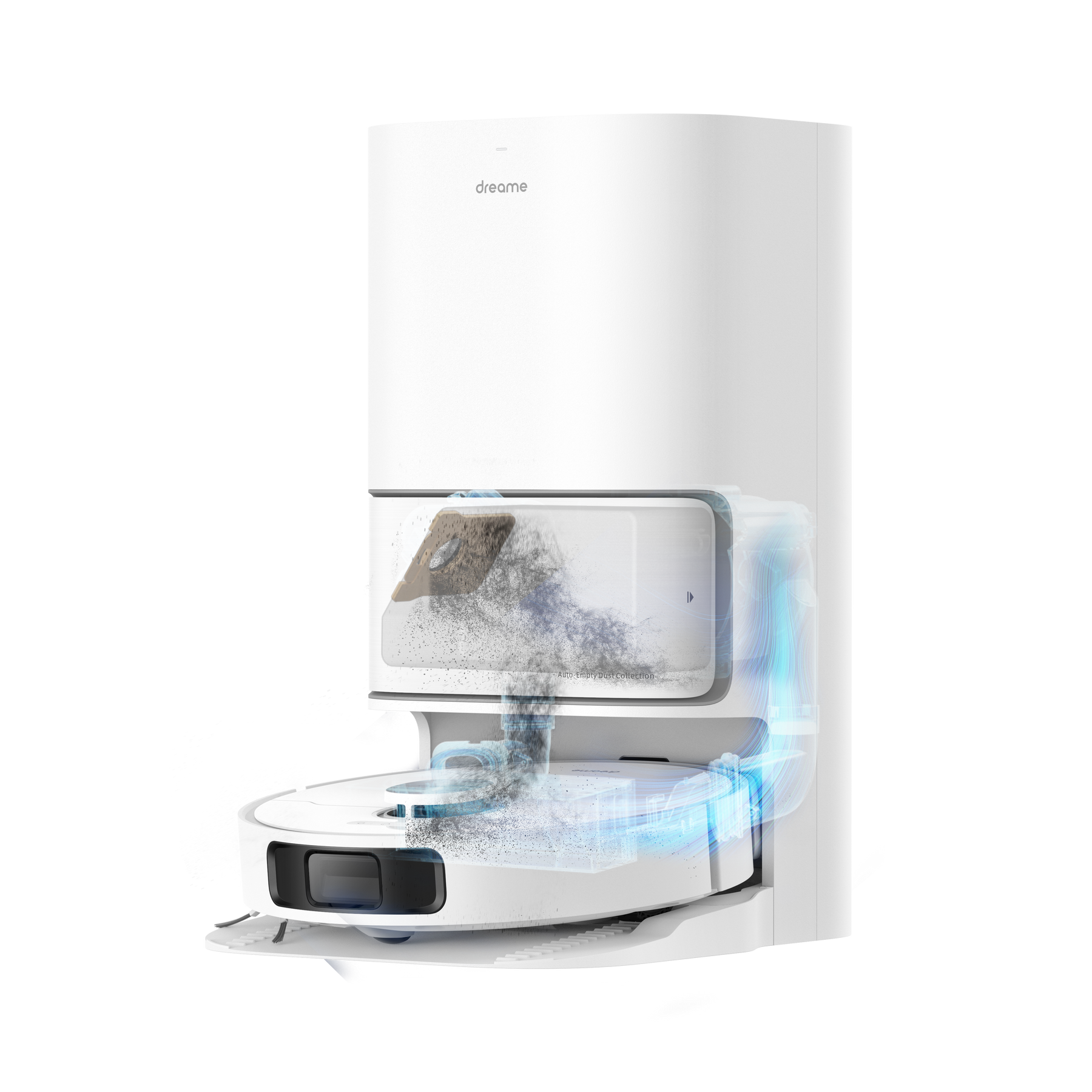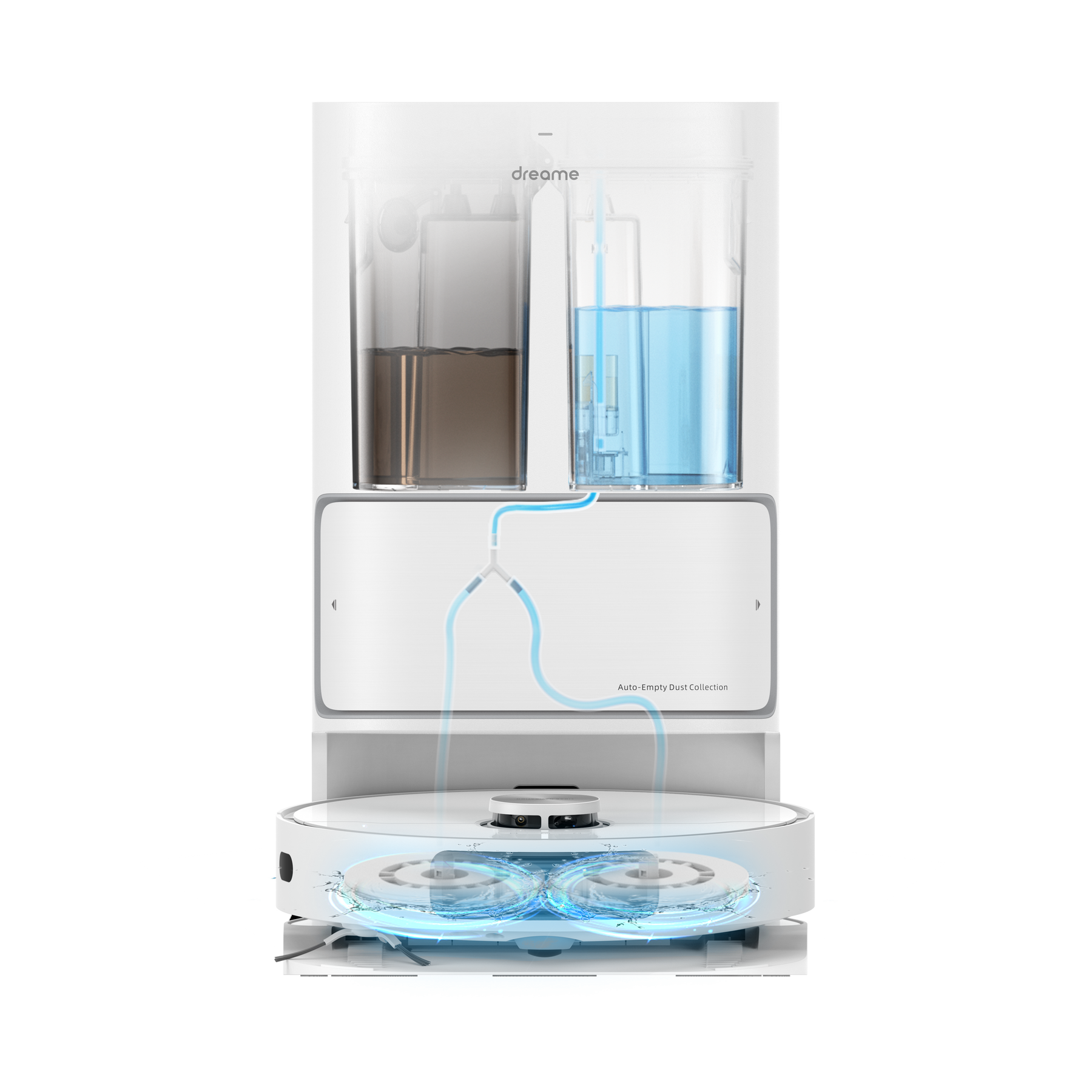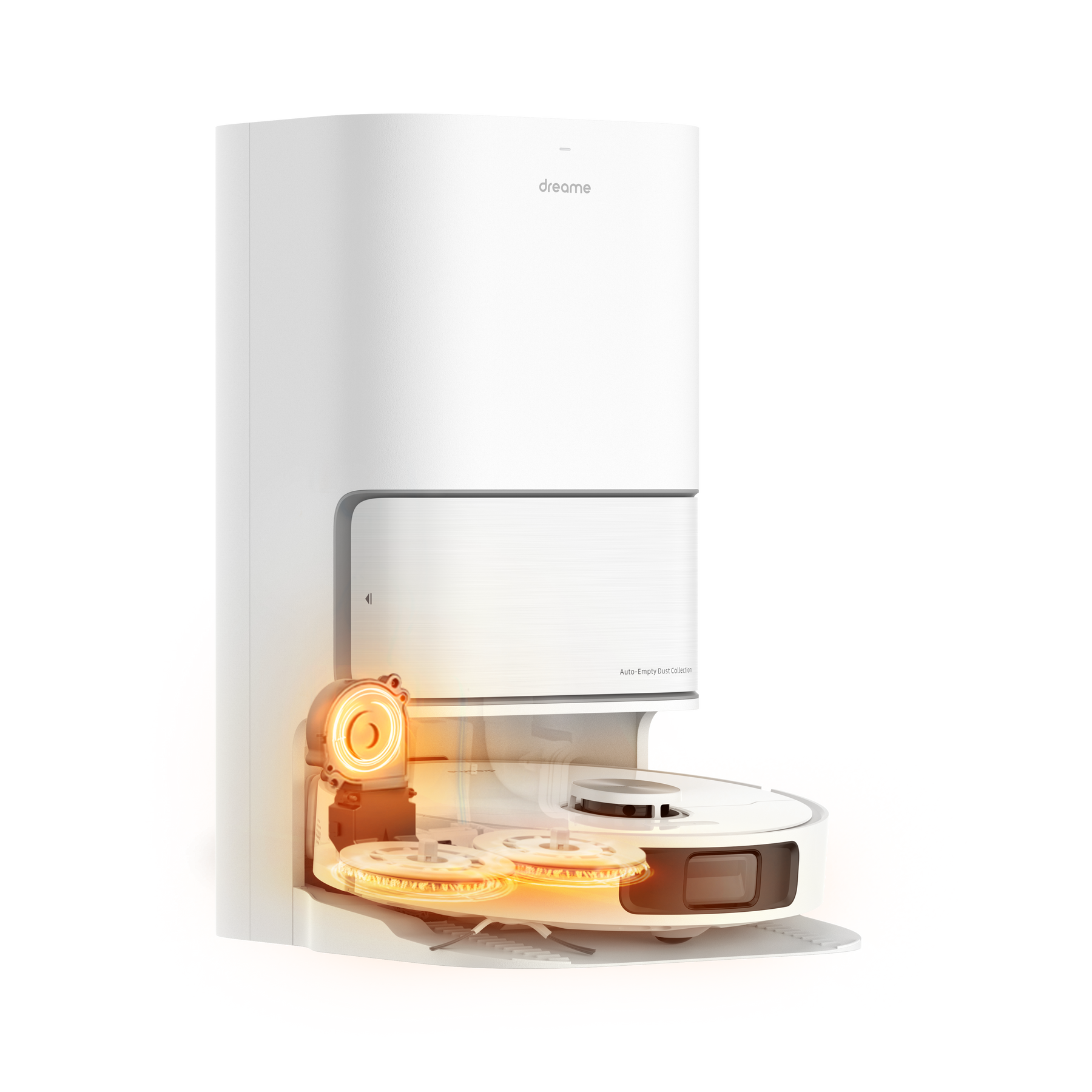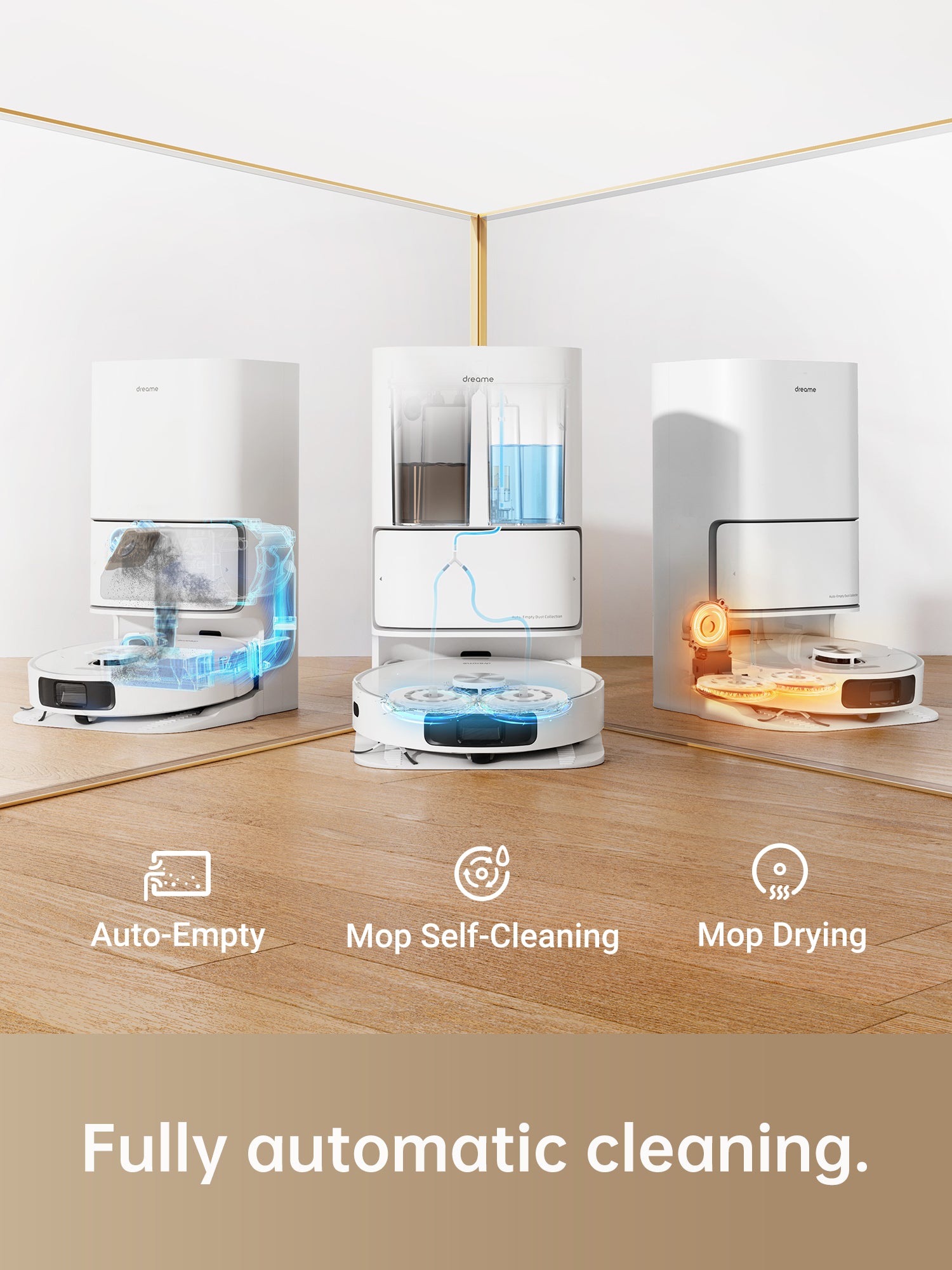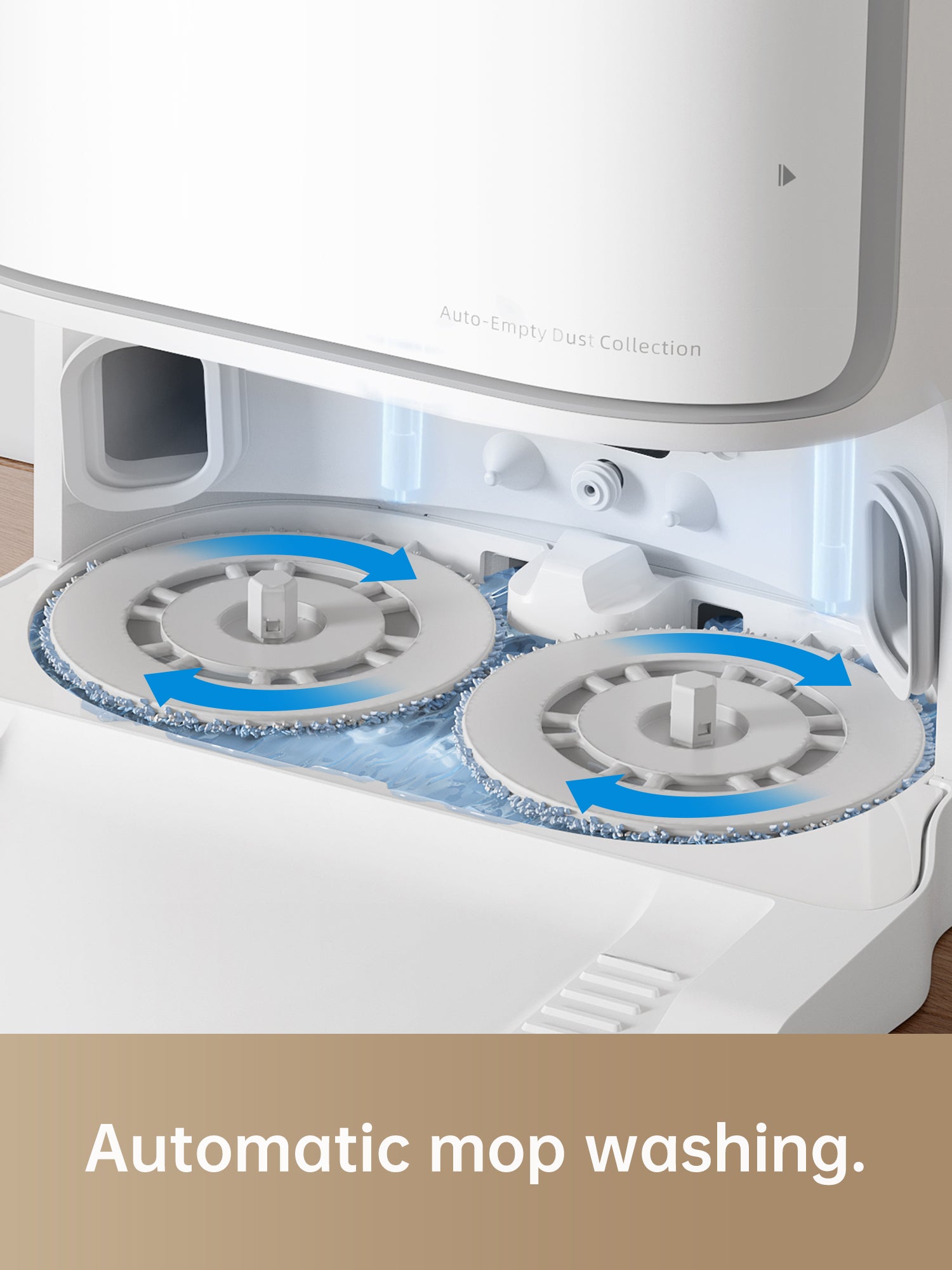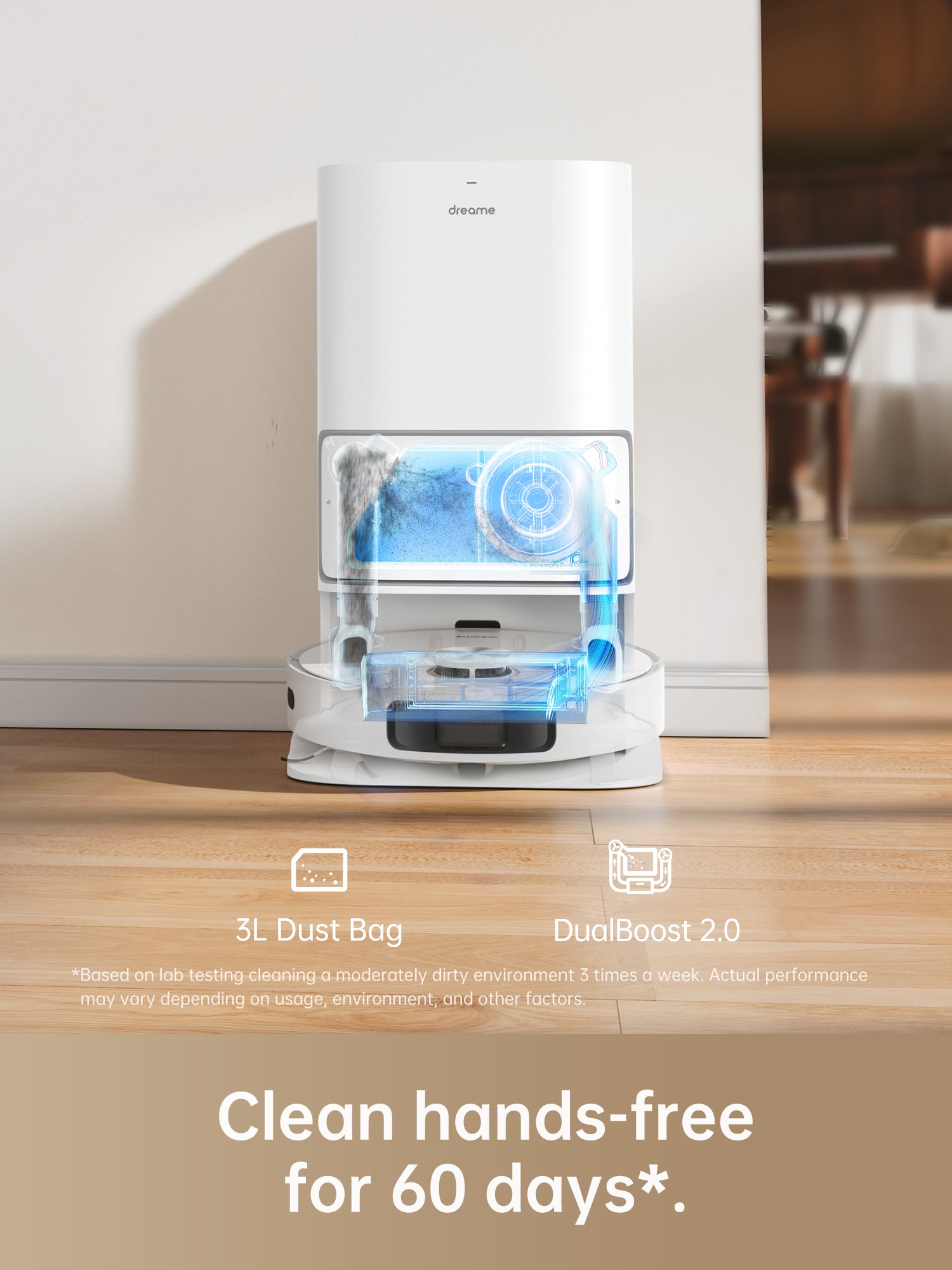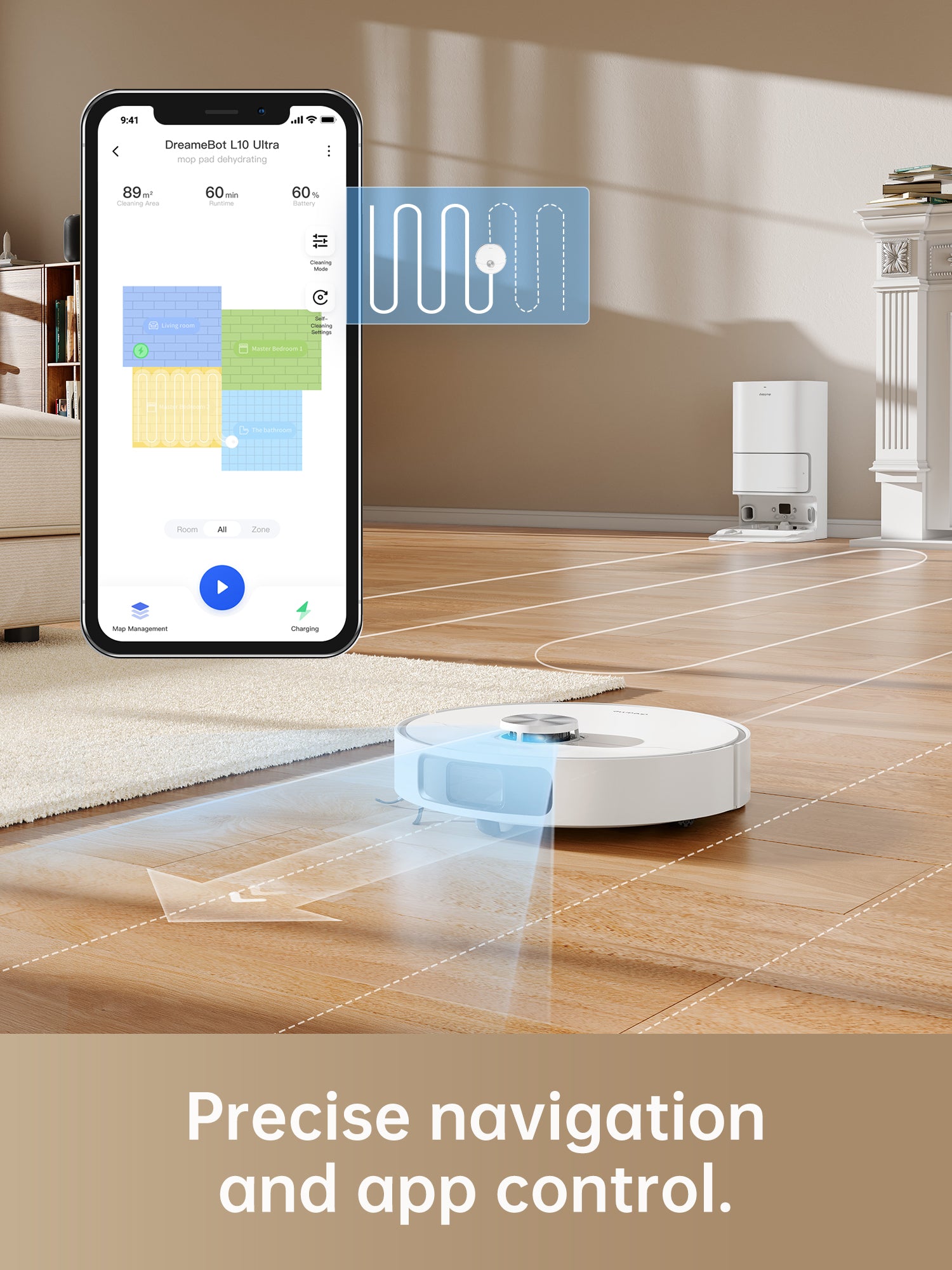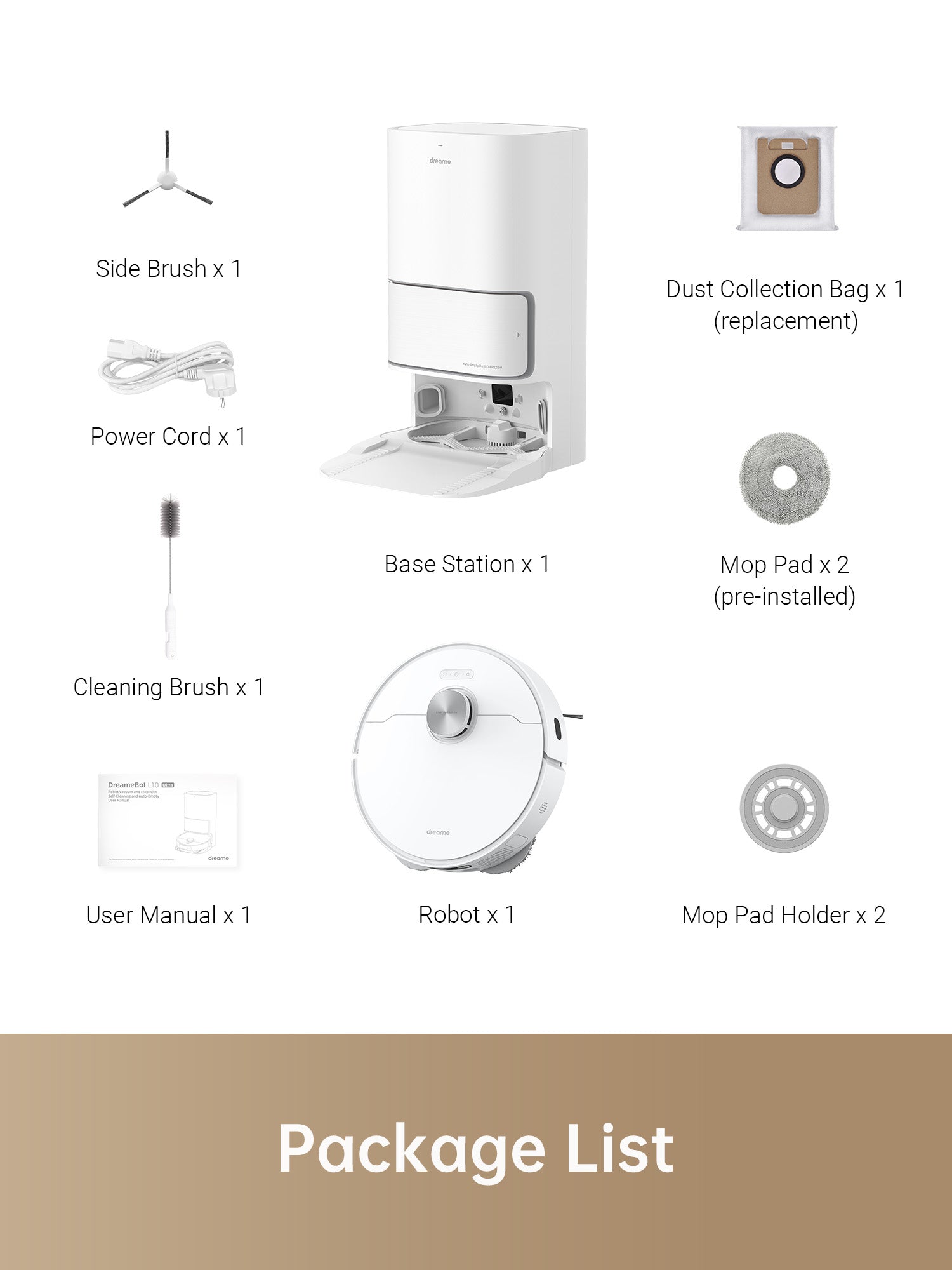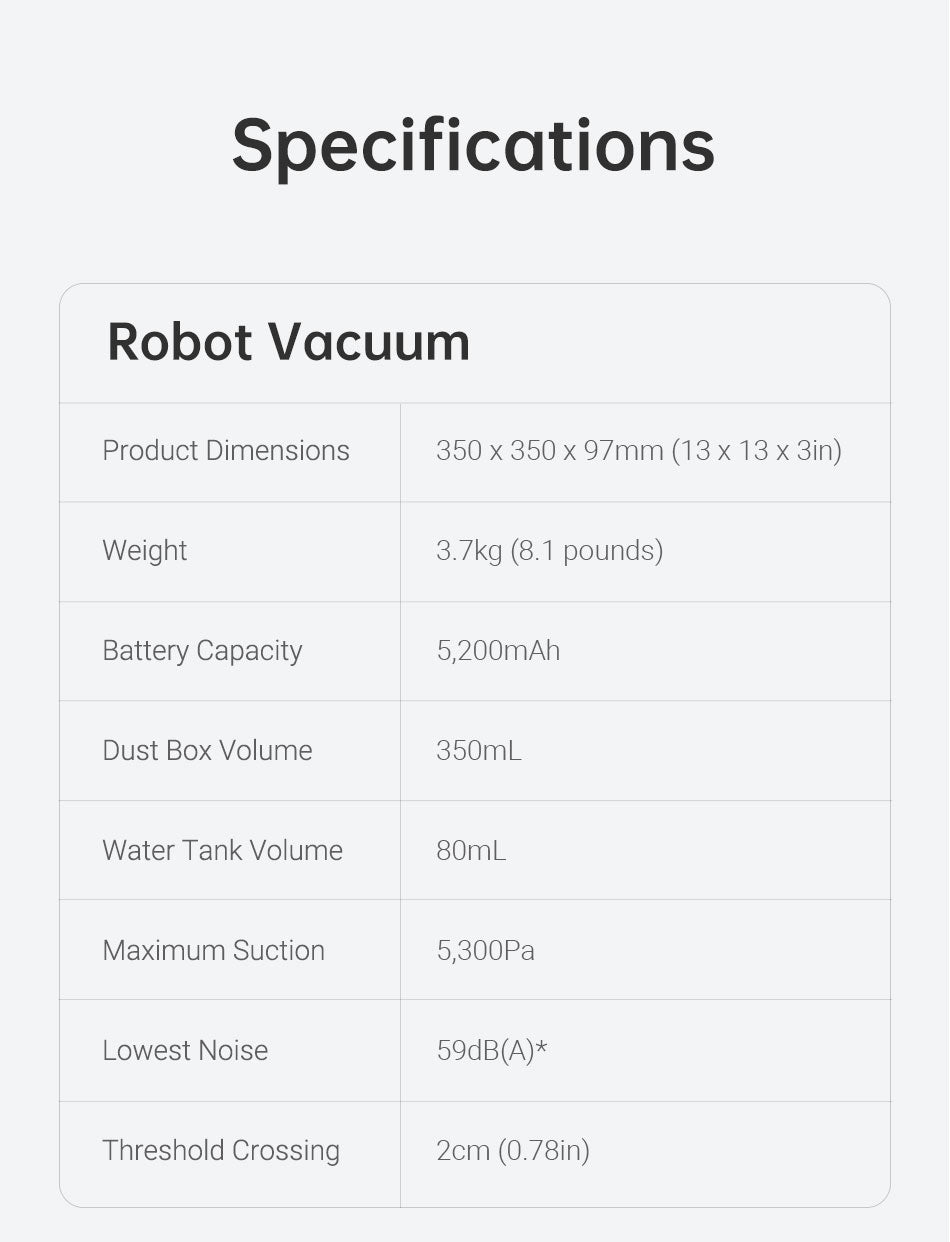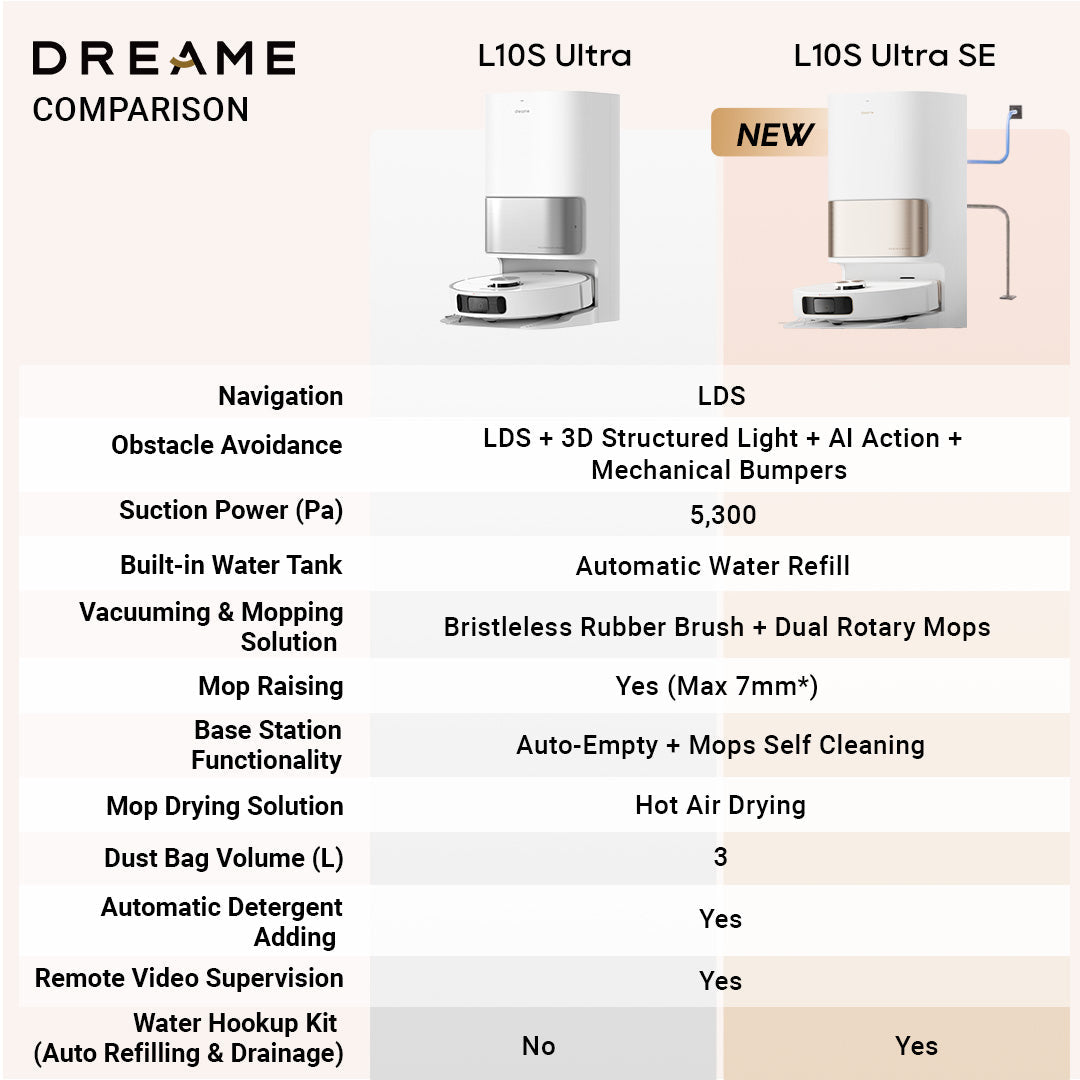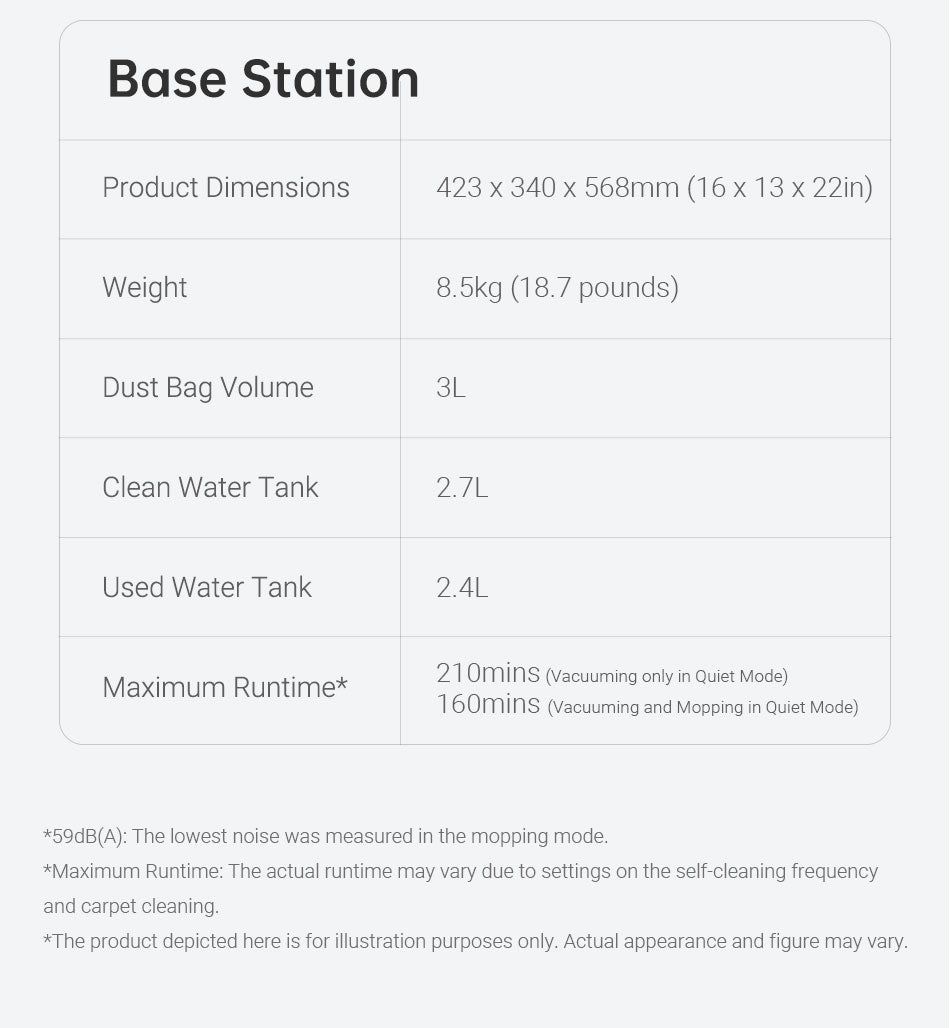 Dreame L10 Ultra Robot Vacuum Cleaner
🛎️ L10 Ultra HIGHLIGHTS:

📌 5,300Pa Suction Power

By having the strongest suction power and with its automatic carpet detection, suction boost, and a robust rubber brush coordination, it can pull all household debris up from rugs, out of carpets, and off of hard floors.

 

📌 3D Structured Light + AI Camera

The advanced AI Action utilizes RGB camera and 3D structured light to rapidly learn your home, tailor cleaning strategies, and auto-generate paths according to the type of obstacle, flooring, and room. With the RGB camera, it recognizes and avoids household obstacles in a smart way. Get cleaning sooner with fast mapping that generates a 3D map of your home.

 

📌 Automatic Mop Hot-Air Drying

Automatic mop cleaning immerses the mops in water and spins them at high speed against grooves in the removeable base plate to dislodge dirt. After cleaning is complete, the mops are dried with hot air in as little as 2 hours* to help prevent odor, mildew, and bacterial growth.

 

📌 Automatic Dust-Emptying

3L Dust Bag with Self-Emptying gives you up to 60 days* of automatic, hands-off cleaning. High-speed emptying, minimal noise, and virtually no clogging.

 

📌 Automatic Refilling of Water & Detergent

The base station automatically adds water to the robot's water tank, making the mop pads always wet for effective mopping. Even better is that it also automatically adds Dreame solution when mopping.

 

📌 Real-Time Remote Video Supervision - Dreamehome App Only

Remote viewing allows you to control the robot and monitor your home in real-time situations. You can take a screenshot, record a video and even speak through L10S Ultra live.

Note*: Video recording will only be available in future update.
🛎️----SPECIFICATIONS----
🗝️ L10 Ultra:
Mapping Sensor: LDS, 3D Structured Light + AI, 3D Mapping
Suction Power: 5,300 Pa
Dust Box Capacity: 350ml
Vacuuming & Mopping: Bristleless Rubber Brush
Mopping Features: Auto Mop Self-Cleaning / Hot-Air Drying / Water & Detergent Refill
Battery Life: 210 mins (Vacuuming only in Quiet Mode) 
160 mins (Vacuuming and Mopping in Quiet Mode)
Noise Level: 59 dB(A)*
📦WHAT'S IN THE BOX (L10 Ultra)
1 x Robot + Base Station 
1 x Side Brush  
1 x Dust Collection Bag (Replacement) 
2 x Mop Pad
2 x Mop Pad Holder 
1 x Cleaning Brush 
1 x User Manual 
1 x Power Cord 
*Warranty for product will be void if warranty seal is damaged
*Only use own model Detergent!
🔰OFFICIAL DREAME WARRANTY
2 YEARS Dreame Official Warranty is automatically activated when product is shipped to buyer.