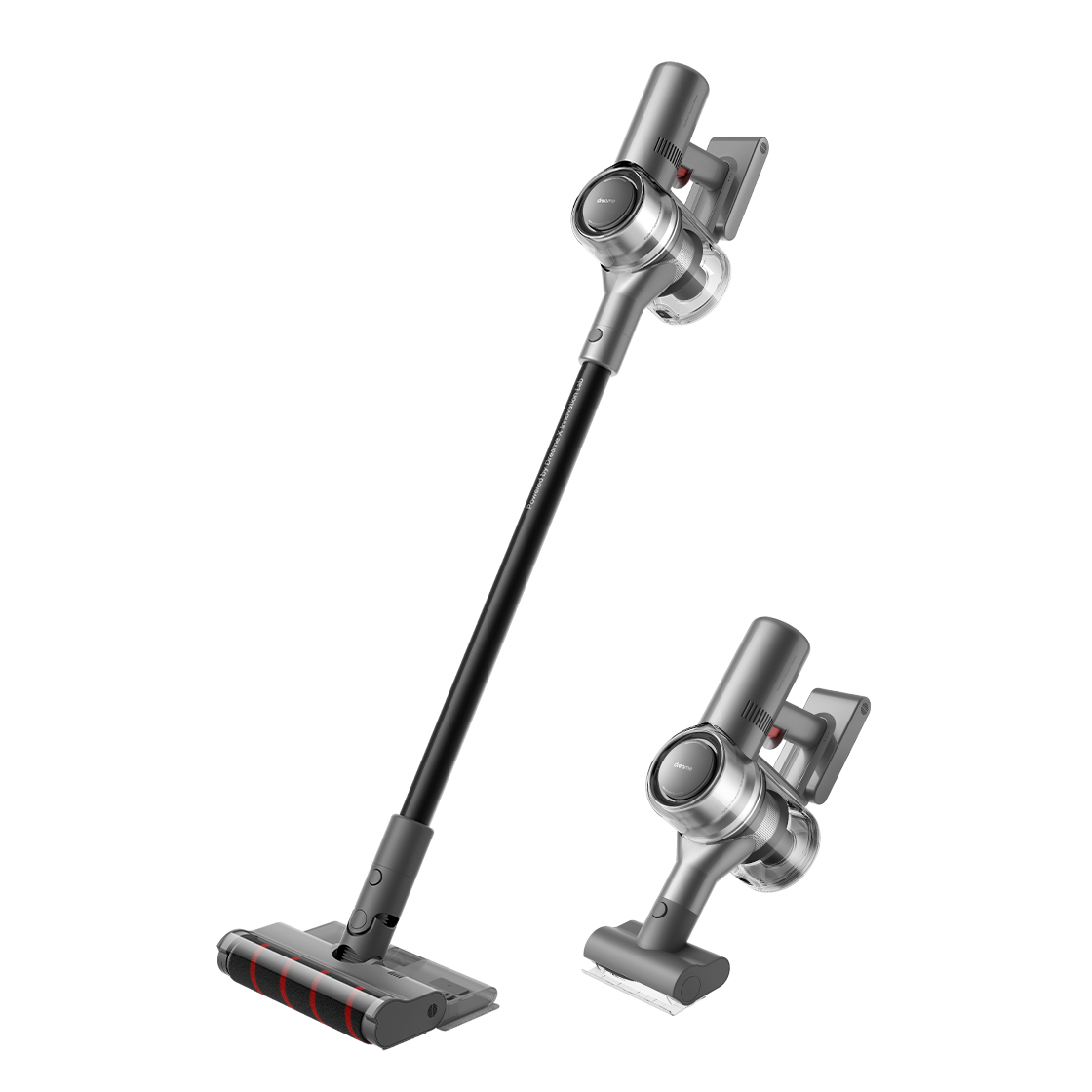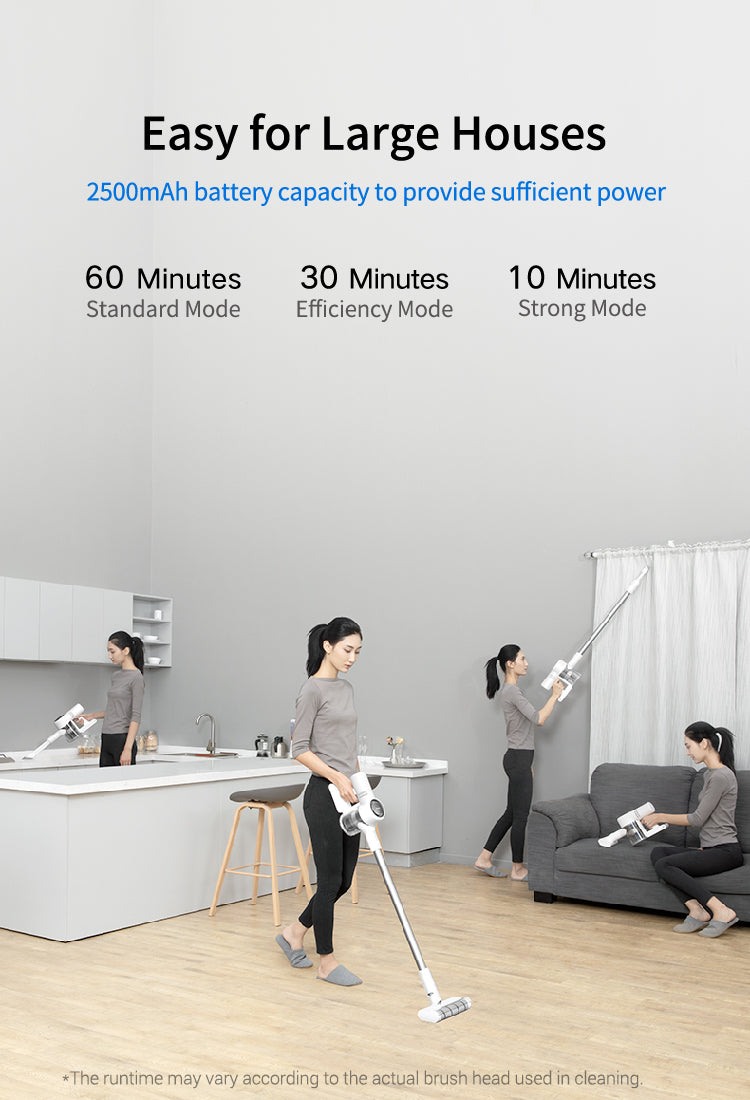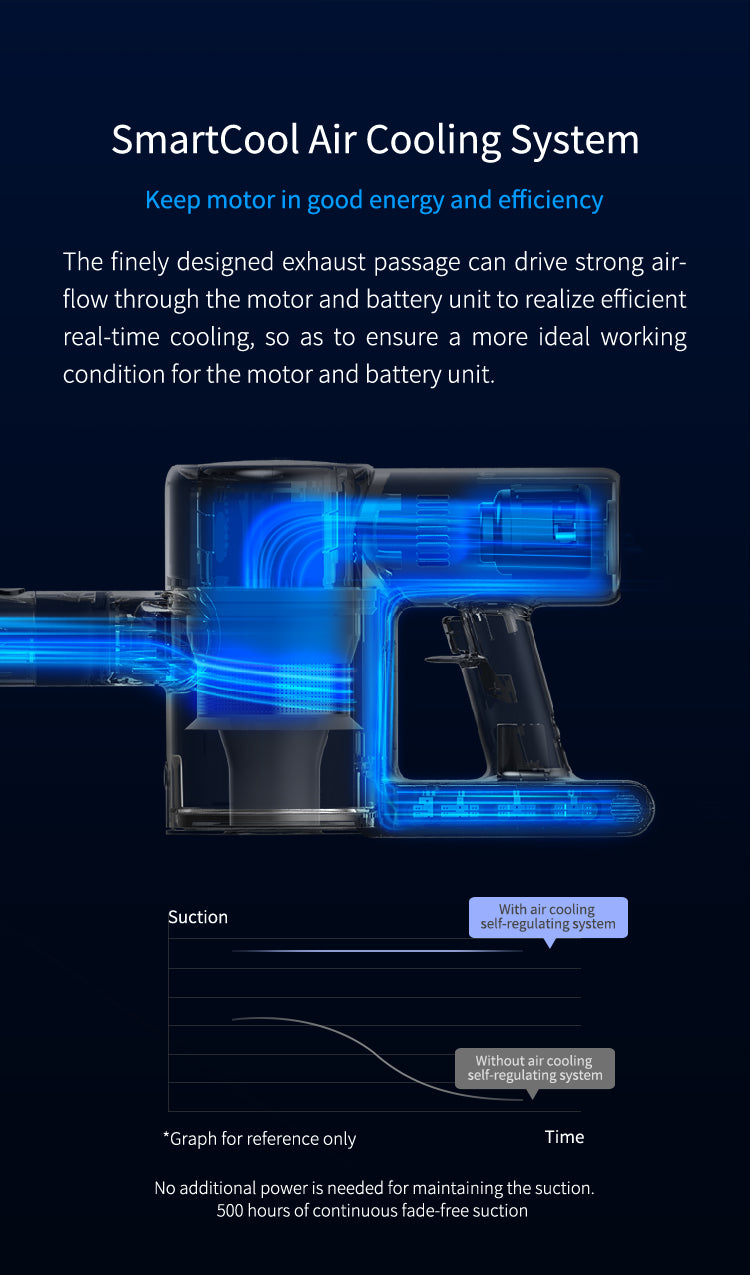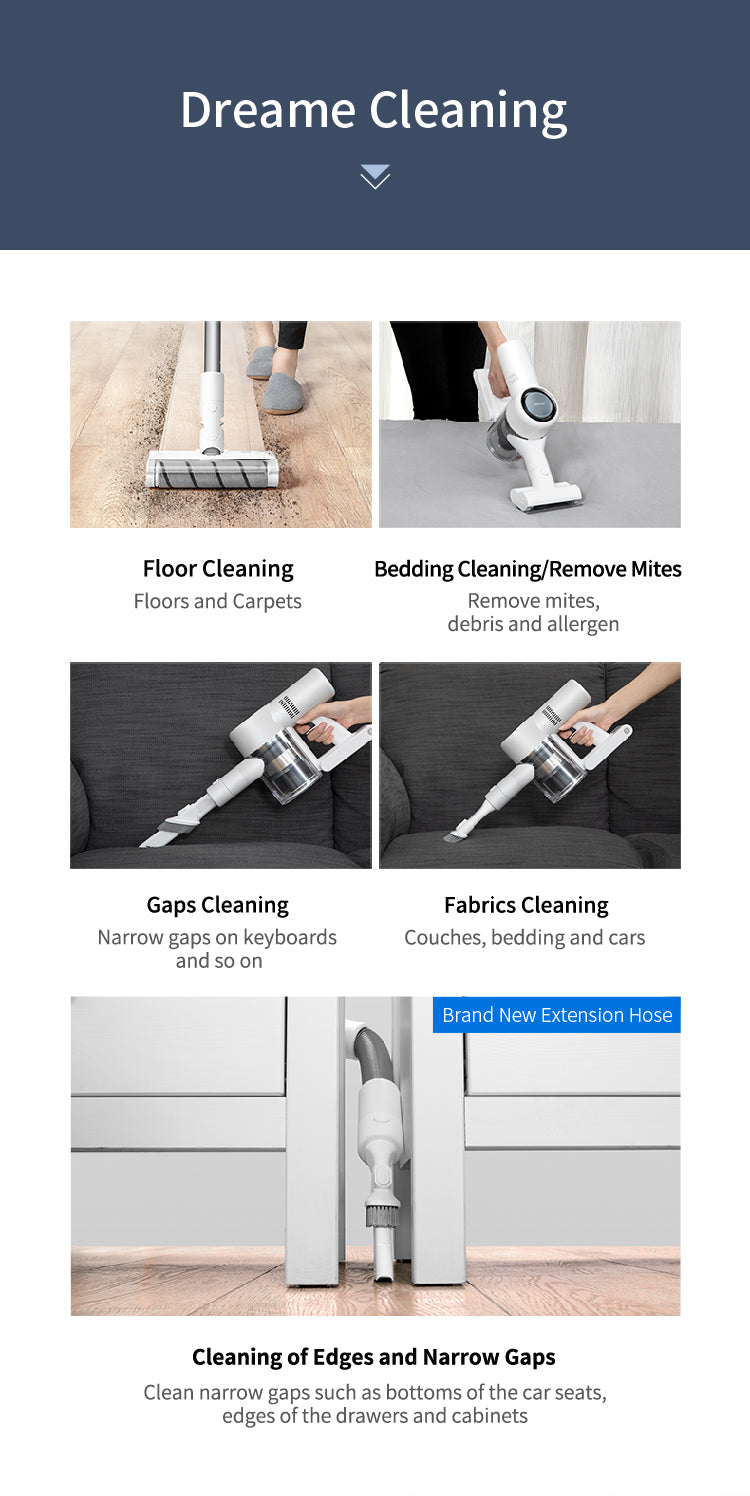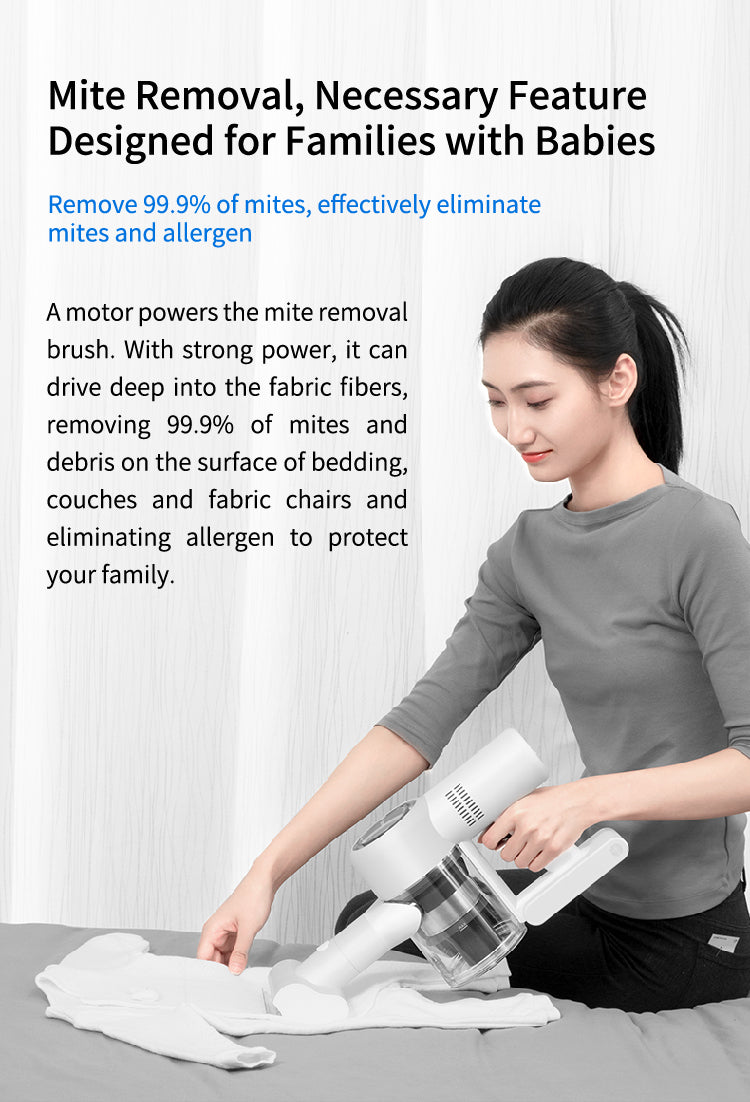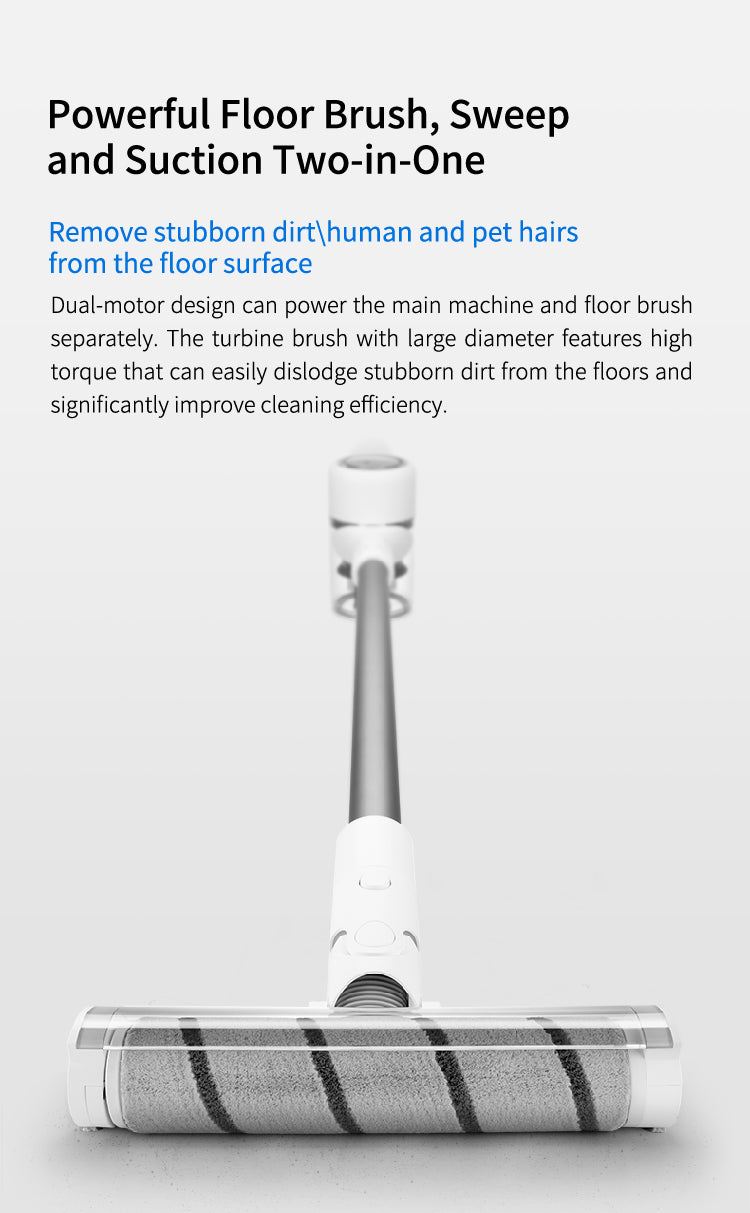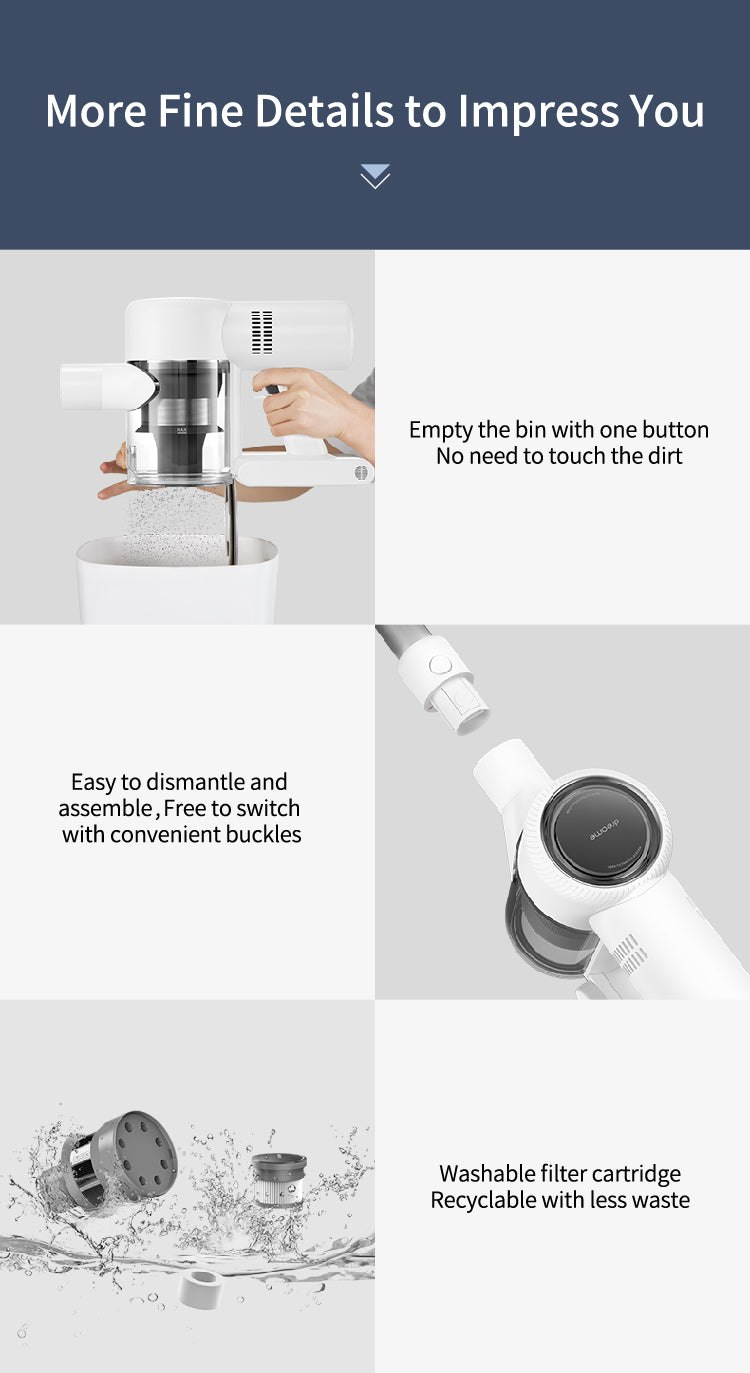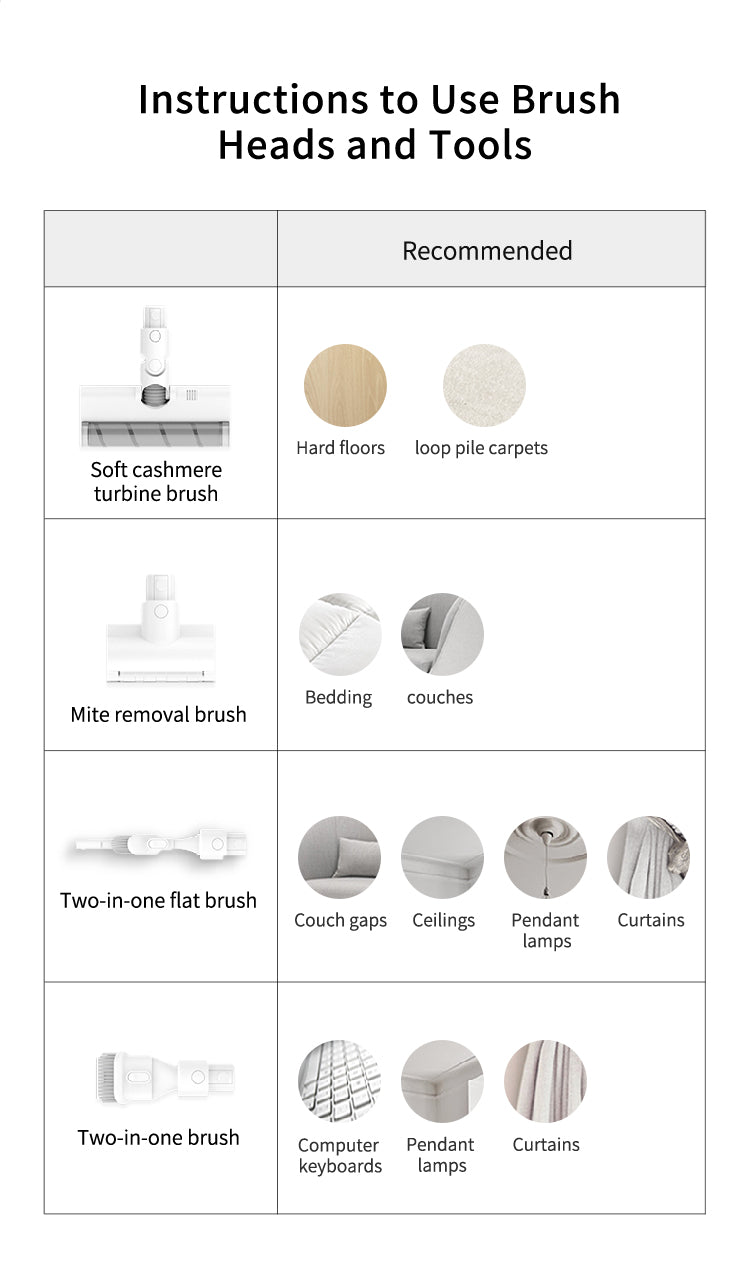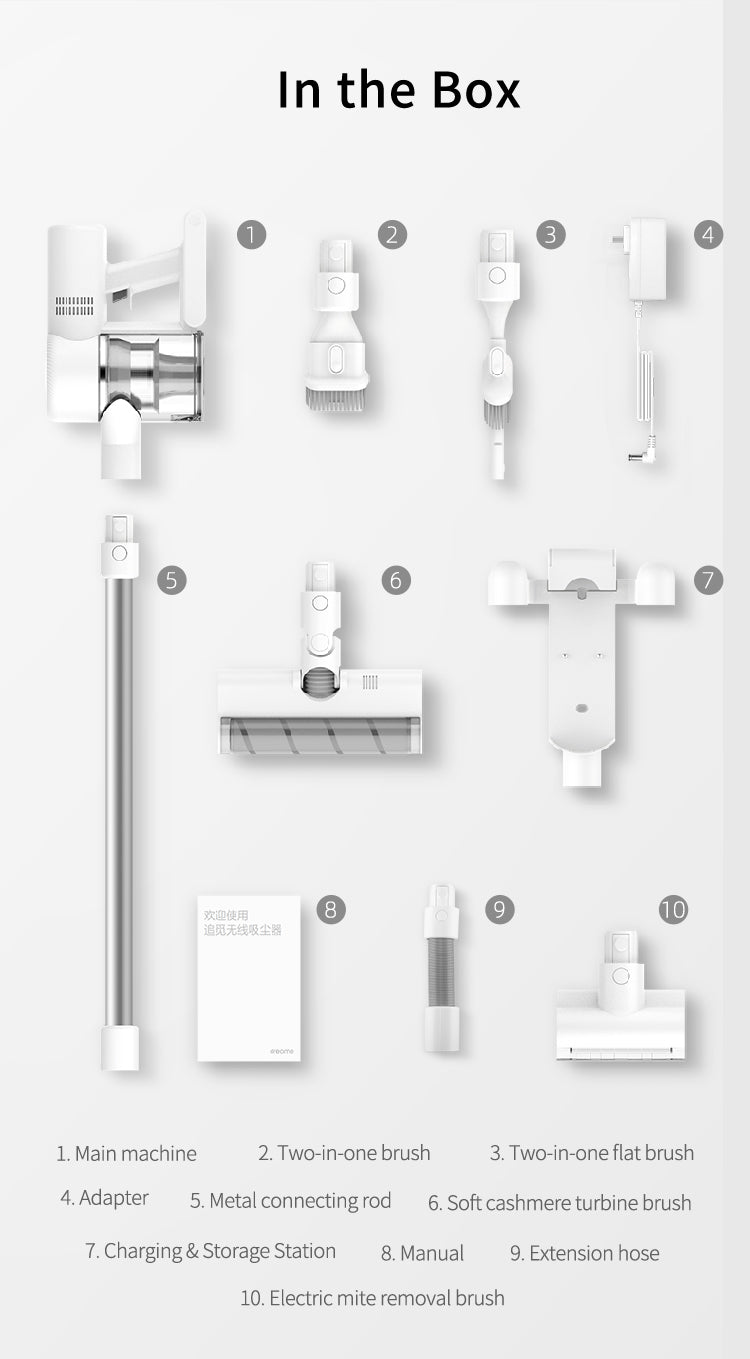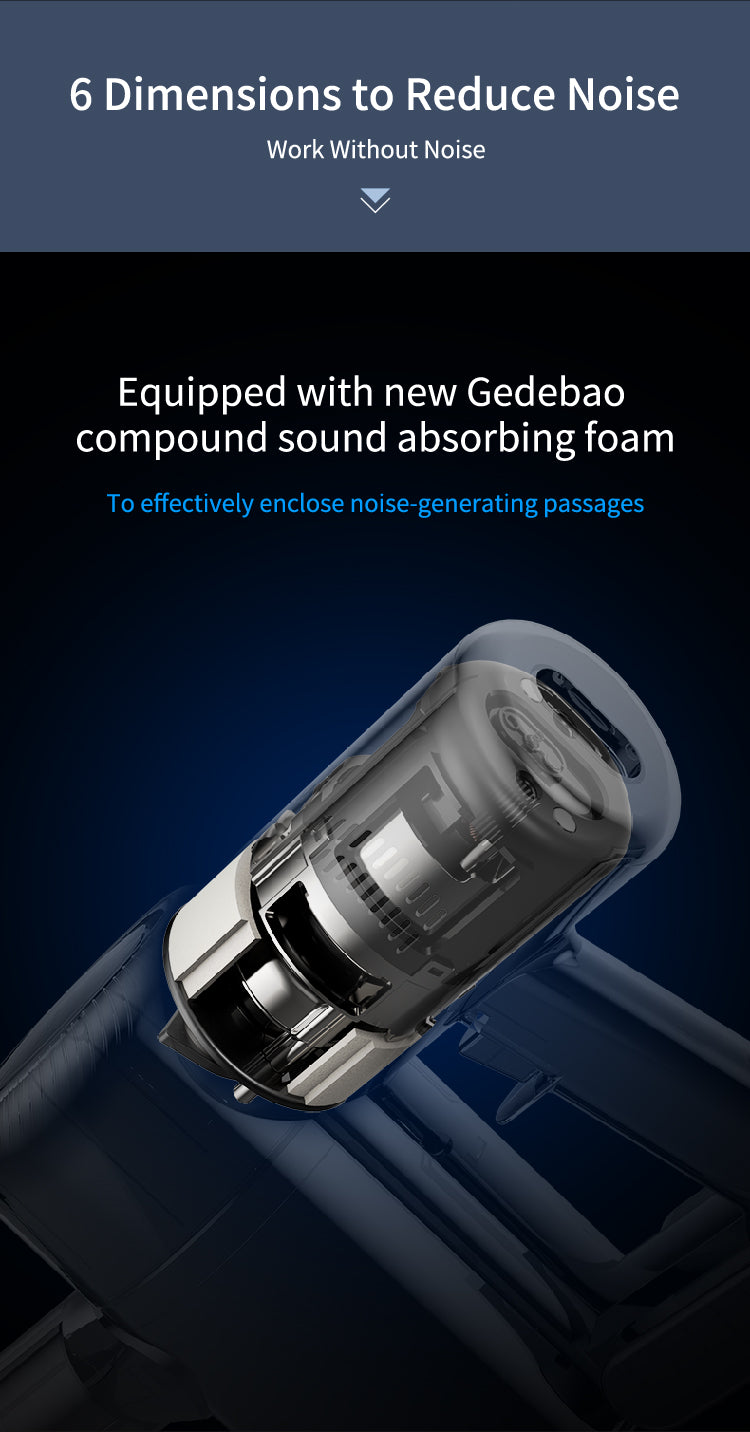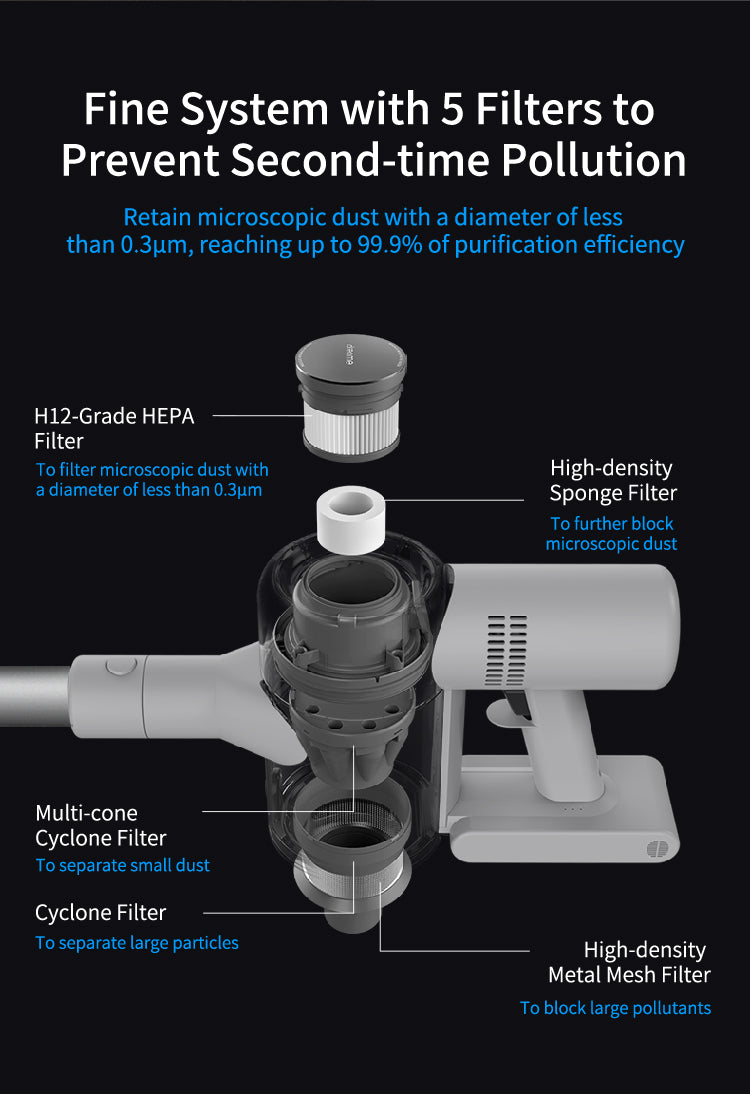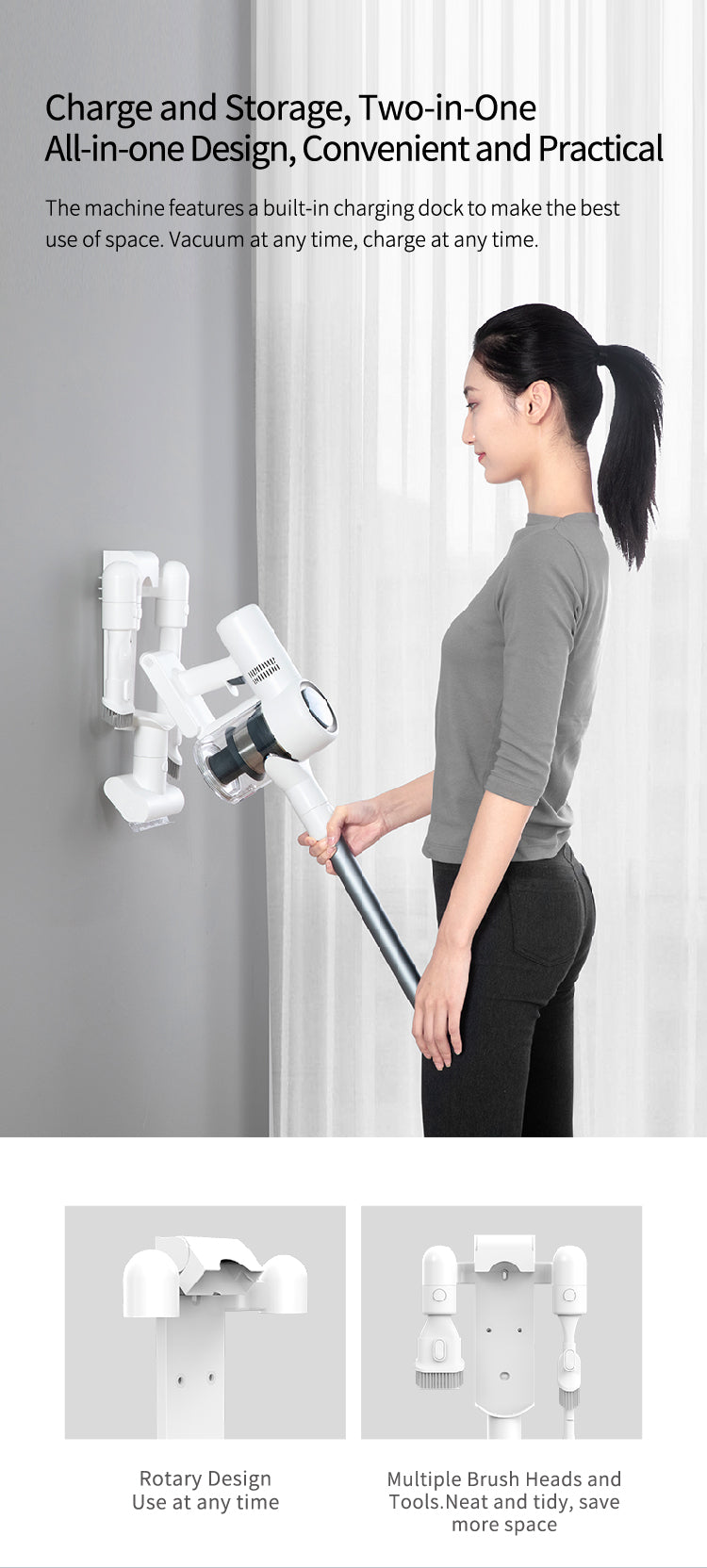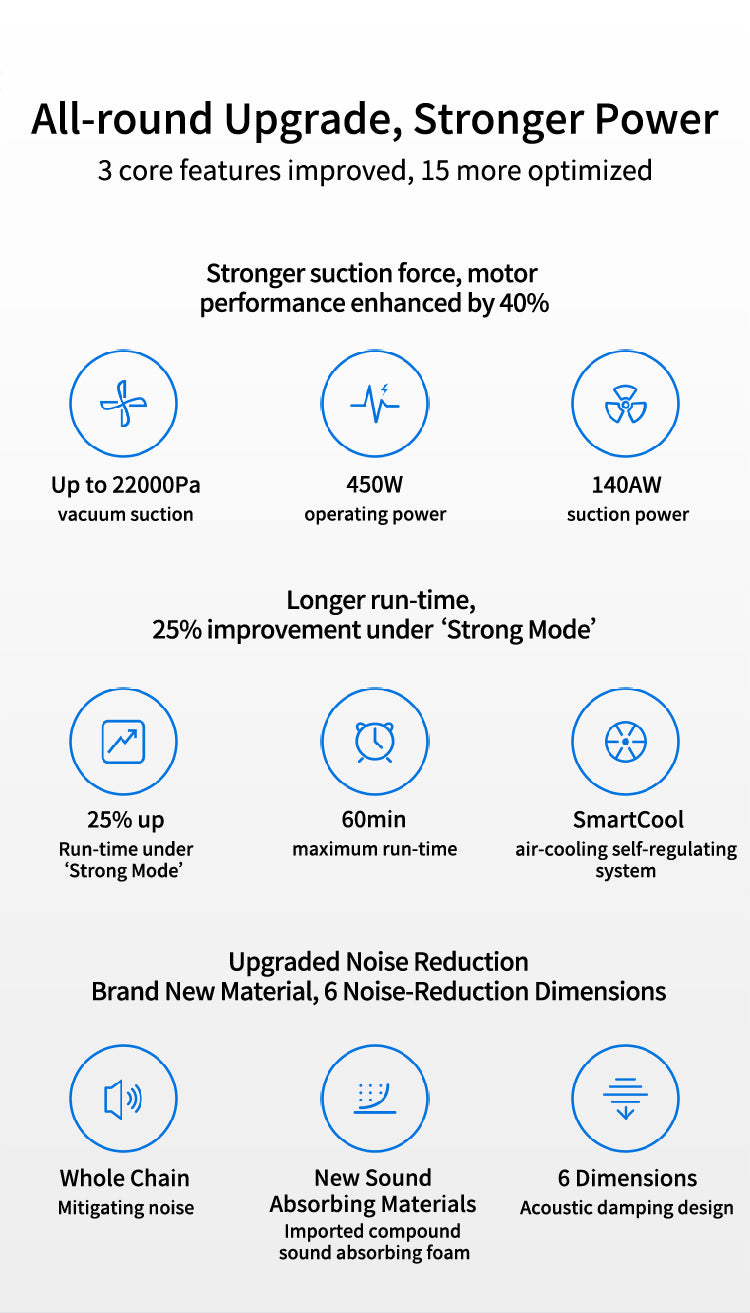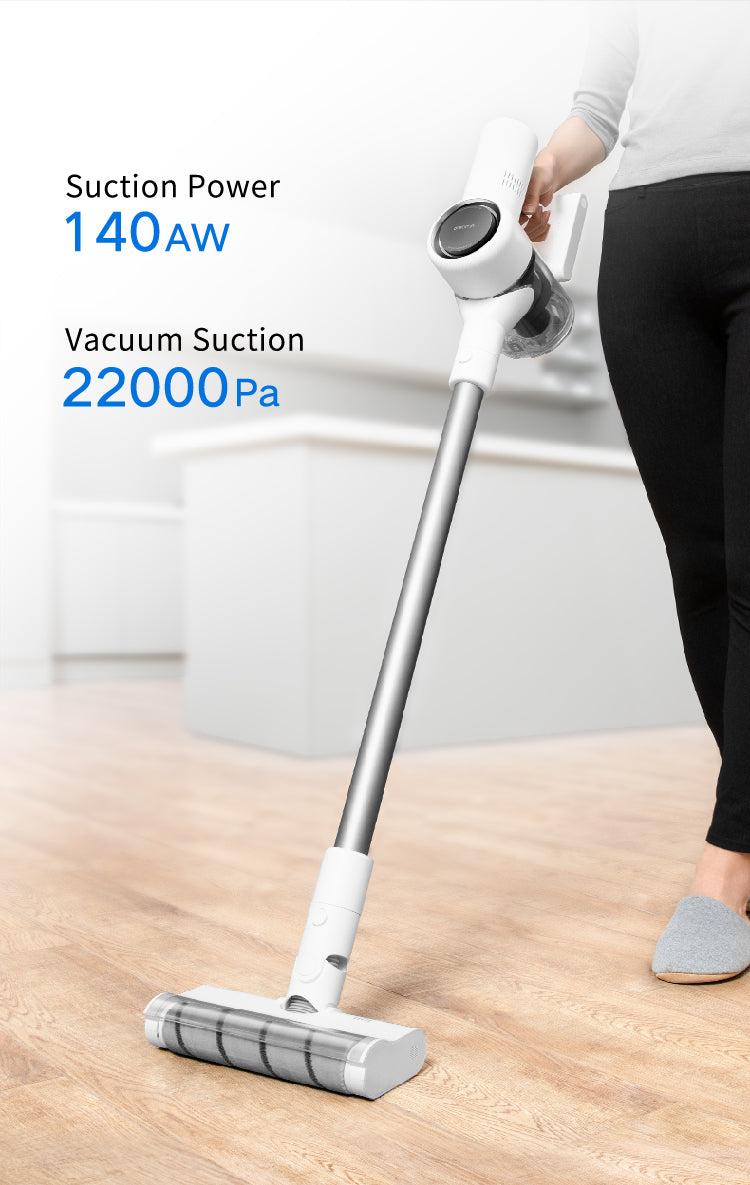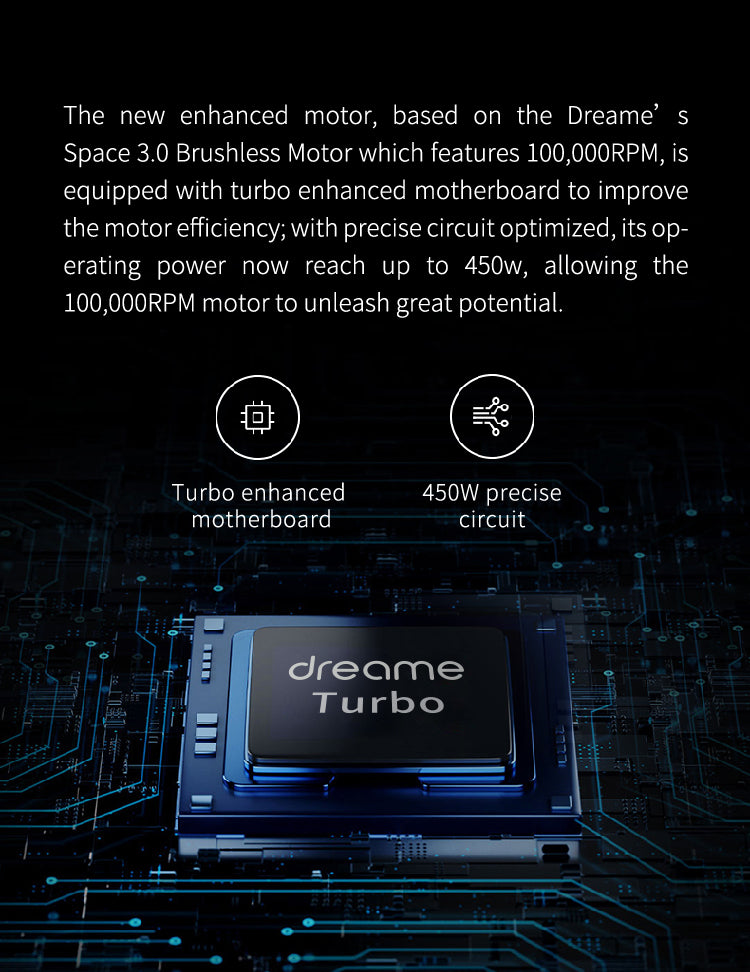 Dreame V12 Pro Cordless Vacuum Cleaner
Extremely powerful suction with its new fast-speed motor makes the Dreame V12 Pro the ideal vacuum for any household.
With a super light carbon fiber rod, you can now lift, swivel, tilt, bend, and clean hard-to-reach places with remarkable ease.
OVERVIEW
• 4 interchangeable attachment + extension rod + flexible adapter
• Fleeced v-shaped anti-tangle roller brush
• 4 suction modes
• 32,000 Pa stronger suction
• 85 min long runtime
• Automatic suction adjustment
• 500ml large capacity dust cap volume
• Wireless operation, rechargeable battery
• Dreame SPACE 6.0 high-speed motor
• Noise reduction
• Cyclone filtration system
FEATURES
• Multi-Surface V-Shaped Anti-Tangle Brush Design
The V-shaped grooves allows for easy movement along any ground surface. Combining rubber and bristles, along with comb-like teeth work together to help keep hair from tangling.
• 210AW Powerful Suction
Through aerospace engineering techniques, Dreame engineers made the most of the high speed motor, airtight structure, and streamlined architecture, to create a powerful suction at 32,000 Pa that removes most of the dust accumulated in crevices.
• 160,000 rpm High Speed Motor
The Dreame V12 Pro possesses the strongest suction yet, with a hyper fast Dreame SPACE 6.0 motor for better performance when picking up debris on any surface.
• 85 min Battery Runtime
The Dreame V12 Pro uses a 7 cell 2,700mAh battery which charges fully under 4 hours, providing a maximum runtime of 85 minutes.
• Automatic Suction Boost
In Auto mode, V12 Pro intelligently increases the suction for carpets and fabric coverings to pick up the dust deep inside.
• LED HD Color Display
The Dreame V12 Pro is equipped with an impressive full-color HD LED display that shows in real time all the information you need to know. Remaining runtime, work mode, and error prompts are displayed on the LCD screen so you know exactly how to plan your cleaning session.
• 2-in-1 Storage & Charging Dock
The wall-mounted dock serves a dual purpose. Store and charge at the same time so you are never without a fully charged battery.
• 4 Suction Power Modes
Switch between each mode to meet your cleaning needs.
Eco Mode: For light dusting, picks hair and noodles. Good for daily floor cleaning;
Med Mode: For classic mess, crumbs and debris. Also for cushions and car seats;
Turbo Mode: For carpets, rugs and curtains, hard to reach areas;
Auto Mode: Automated, do-it-all simplified operation.
• Continuous Cleaning Mode
A trigger lock liberates you from holding down the trigger while you clean.
• Flexible Adapter
Allows for greater flexibility for the vacuum to reach under furniture without you having to crouch down.
• Optimized Air Flow System
Air vents are strategically placed and specially designed to dissipate heat. This allows Dreame V12 Pro to optimize both air flow and energy consumption for it to perform at its highest quality without overheating.
• 5 Layer Filtration System
The 5 layers of filter effectively intercepts particles down to 0.3 microns in size, achieving purification efficiency as high as 99%.
• 4 Interchangeable Attachments + Extension
The Dreame V12 Pro includes a motorized dust mite head for soft and delicate surfaces, a versatile flat brush for tight spaces and crevices, brush with soft bristles for curtains and fabrics, as well as an extension hose for high areas.
• 8 Stage Noise Reduction
The Dreame V12 Pro is designed to reduce noise in order to make it as quiet as possible. From a motor that reduces friction, components to reduce vibrations, and a sound absorbing foam, it operates quietly with minimal disturbance.
• 500ml Dust Cup
The large capacity dust cup holds more debris, reducing the need to frequently empty its contents.
• Easy Dust Cup Emptying
The dust cup opens at the base, allowing the contents to be emptied out easily without any direct contact with the debris/dust matter.
• Sleek, Ergonomic Design
Weighing at just 1.64kg, the vacuum can be easily lifted with one hand. The motor and battery are placed at the handle to maintain gravity balance even if lifted.
SPECIFICATIONS
Product Name: Dreame V12 Pro Cordless Stick Vacuum
Maximum Runtime: 85min
Battery Capacity: 7*2,700mAh
Main Body Weight: 1.64kg
Dust Cup Capacity: 500ml
Rated Voltage: 25.2V
Rated Power: 650W
Charging Time: Approx. 4 Hours
Motor: Dreame SPACE 6.0 High-Speed Motor
Filtration System: 5-Layer Filtration System
PACKAGE CONTENTS
1 x Vacuum Cleaner
1 x Multi-Surface V-Shaped Brush Bar
1 x Carbon Fiber Rod
1 x LED Crevice Nozzle
1 x Extension Hose
1 x Charger
1 x 2-in-1 Brush Nozzle
1 x Soft Dusting Brush
1 x 2-in-1 Charging & Storage Mount
1 x Flexible Adapter
1 x Mini Motorized Brush
1 x User Manual
[ OFFICAL DREAME WARRANTY ]
• 2 Years Warranty
• Warranty is auto activated once product is shipped out